Couple Tattoos by a Tattoo Artist In Jaipur
"INK" YOUR WAY TO MAKE YOUR LOVE LAST FOREVER & ALWAYS!
Sure you can tell your partner how much you love him/her, or you can say I Love you a zillion times, but does it really show them that your love for them is FOREVER?!
If you're looking for a nice way to impress your beloved, or if you want to bond and connect more than ever, there's no better option than getting a Couple's tattoo done together!
What's a couple tattoo? It can be anything you want. It could be any 2 romantically themed matching tattoos on both your bodies, it could be on your ring fingers, it could be a quote or a song which holds a deeper meaning for both of you.
Most couples prefer getting their partner's name or initials inked on their wrists. Some prefer ring tattoos. Ring tattoos are my personal favourite. They are very fascinating and very innovative, different and creative way to show your love. You could either get rings inked on your fingers, or your partner's initials. (It's definitely going to be cheaper than an actual ring. And there will never be a chance to lose it.

Recently couples are getting their partners portraits done. Men usually prefer their partner's portrait on their chest on the heart. While women are still not up for the portrait business yet.
One of the most common designs chosen by the couples is to get the numerical of their anniversary done. Or some words broken into 2 parts like SoulMate, xoXO, Love, etc. Couples prefer getting half n half heart designs too.
There are infinite modifications if you're looking for a couple's tattoo, it all depends upon your story and feelings. Just tell your tattoo artist your story and he'll surely make your love last longer!
While going through all the positive aspects of couple tattoos, it should always be kept in mind that these tattoos top the list of "The tattoos you need to think about  56488 times before getting done" because no matter how deep your love is for your partner, it is a major step and a very important decision which should be made responsibly and not impulsively.
But if you are really lucky to find that person with whom you're going to get old, this is the one perfect way that will get you both closer to each other in the best way possible.
Like they say, "Always wear your heart on your sleeve" It takes a lot of courage to literally do that and get the ink of your love permanently on your body!
-by Xpose Tattoos | Tattoo Artist In Jaipur.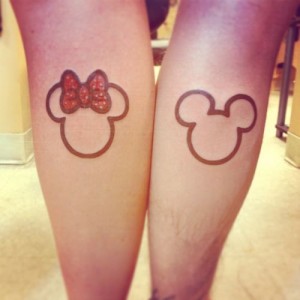 Check out more Tattoos like this in our Gallery.
Share