Best Tattoo Artist India, Tattoo Parlor India, Tattoos India, Tattoos Jaipur, Tattoos In India, Best Tattoo Shop India, Tattoo Studio in India
Welcome to Xpose Tattoos Jaipur,
Xpose Tattoos offers a wonderful Tattoo experience like no other Tattoo Studio in India.
INDIA'S BEST tattoo studio! We provide a wide range of tattoo designs with artists that are willing to work with you on any design idea.
We have stayed course to provide the highest quality tattoo work in a professional,hygienic and sterile environment.
Our Tattoo Artist in Jaipur Sunil prides himself in being able to cover all tattoo styles, including portraits in Jaipur, Rajasthan , India.
100% Unique & Custom Made Tattoo art as Individual and as special as the person you are! Realistic Tattoos, Portrait Tattoos, 3D Tattoos, Lord Shiva Tattoos, Dotwork Tattoos, Everything Tattoo Related.
We also offer a wide range of piercings. Painless & Hygienic Piercing Done Manually – Ear Piercing, Nose Piercing, Eyebrow Piercing, Belly Piercing in Jaipur, Rajasthan, India
Client came to Xpose Tattoos Jaipur looking for a Phoenix Tattoo. She wanted it to be colourful, sleek , feminine with a lotus.
Xpose Tattoos Artist Sunil designed this beautiful colored Phoenix Tattoo for her to be placed on shoulder blade.
Phoenix is a legendary and mythological bird and it represents rebirth, strength, longevity.
Phoenix tattoos are the best tattoo designs from all bird tattoos.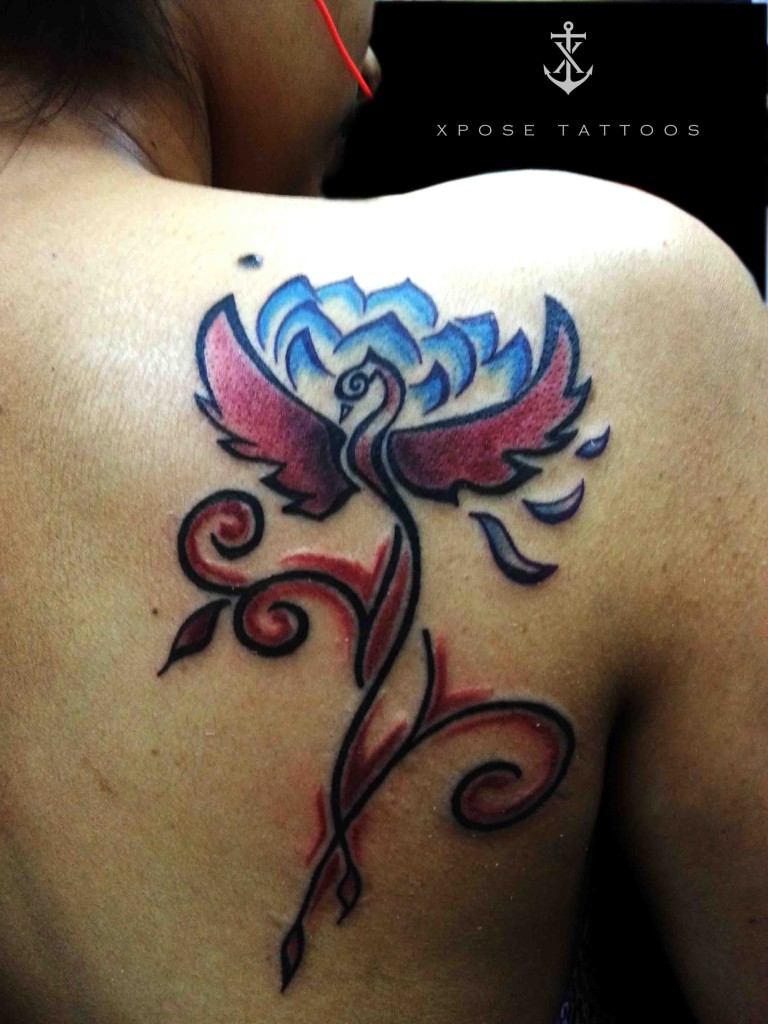 Best Tattoo Artist India, Tattoo Parlor India, Tattoos India, Tattoos Jaipur, Tattoos In India, Best Tattoo Shop India, Tattoo Studio in India
this post is an update to last post : Best Tattoo Studio in India, jaipur tattoo, Tattoo Artist India, tattoo in india, Tattoo in Jaipur, Tattoo Maker In India., tattoo shop in india, Xpose Tattoos 
CONTACT : SUNIL GOYAL +917568000888
3RD FLOOR,
CRYSTAL PALM MALL,
BAIS GODAM CIRCLE,
JAIPUR – 302006
Share