Tattoo in Jaipur
Looking to get a permanent tattoo done? Your search ends here at XPOSE TATTOO STUDIO, JAIPUR. Xpose Tattoos is the ultimate solution, it is the ART FOR YOUR SOUL!
A name, a letter, a portrait, anything you want, all under one roof. Teamed up with the best artists in Jaipur, we aim to provide you excellent work, and at the same time keeping hygiene in mind.
So what are you waiting for?! Check out @xposetattoojaipur for more info.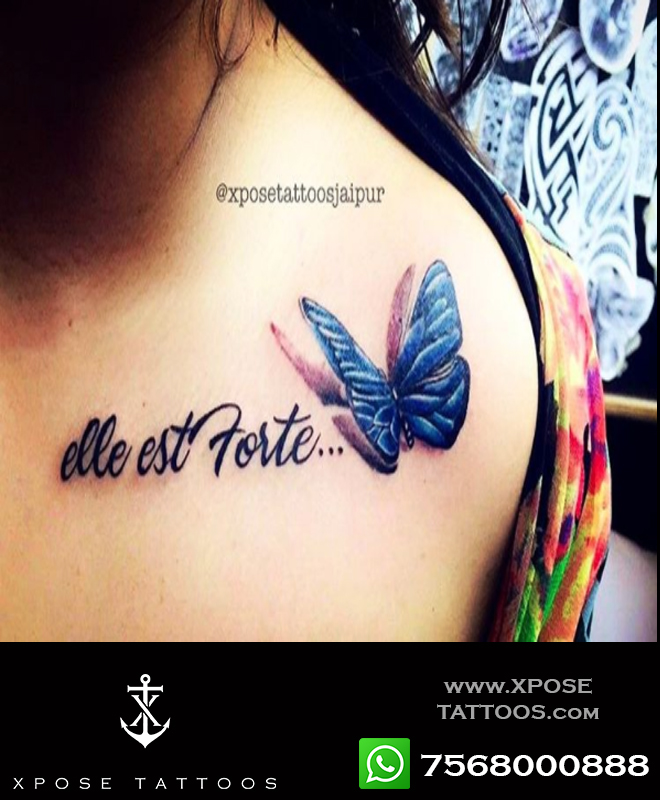 "Elle est Forte" text tattoo with a butterfly done
.
Elle est Forte means "SHE IS STRONG" ❤
This tattoo is dedicated to all the women in the world! Happy International Women's Day to all. The world would be nothing without women! Respect women!
.
.
For more info :
Contact: +917568000888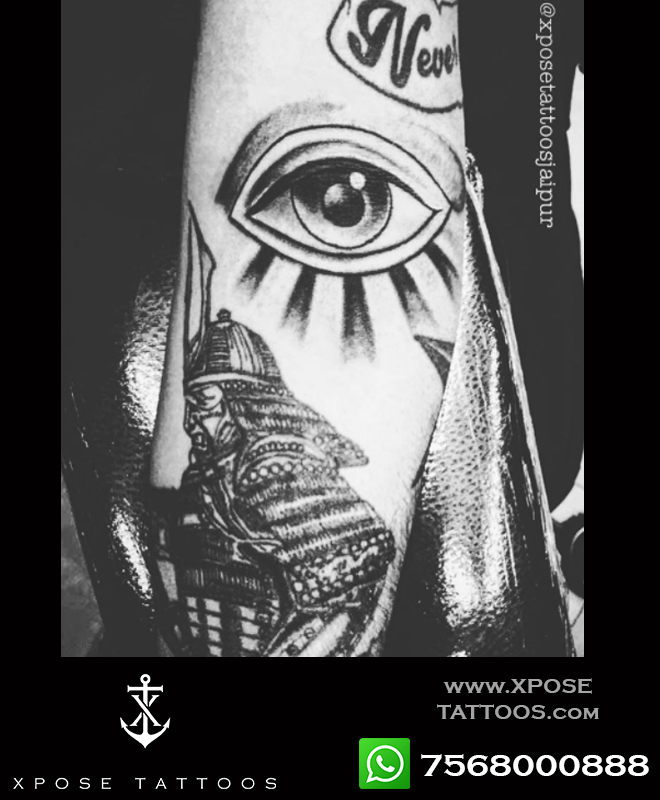 A 3D eye tattoo for one of our favourite clients!!!
.
Contact: +917568000888
Client got this "Scorpion Tattoo" done on his hand.. He wanted a tattoo which would represent •POWER-STRENGTH-SELF HEALING• . Our efficient tattoo team came up with this 3D Scorpion design, which is one of the most common tattoos yet one of the most powerful ones! People often confuse the Scorpion symbol as dark, and related to death but instead, Scorpion tattoo is a symbol of FREEDOM from limiting beliefs about death. ✌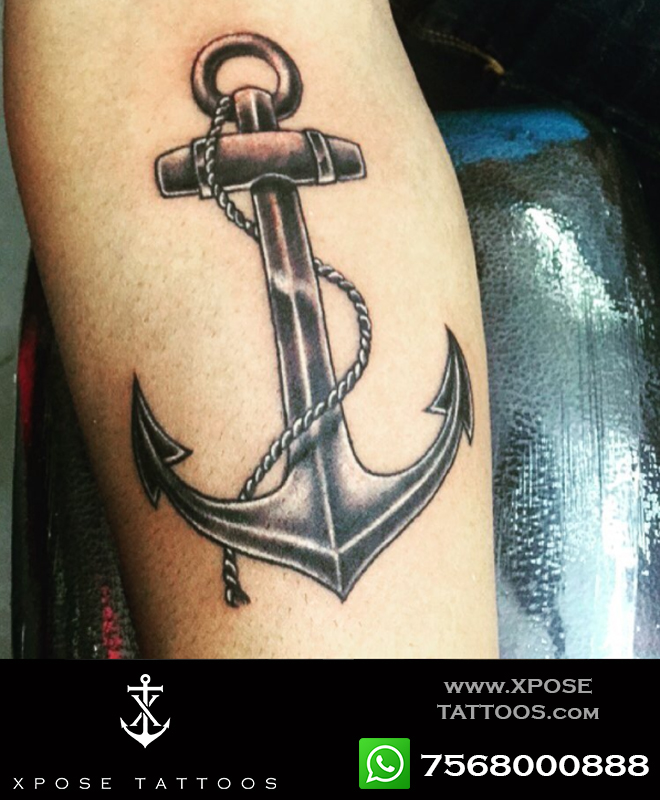 ⚓ This client came to us to get a tattoo done which would signify Holding On to life. And instantly we came up with this Anchor tattoo. ⚓ It not only signifies Holding On to life, it also signifies the stability in life… After getting this Anchor done, client was amazed by the look of it on his hand, anchor tattoo done at Xpose Tattoos Jaipur. ⚓ I refuse to sink ⚓. Instead of getting a monotonous text quote, he decided to get the Anchor logo done-!!!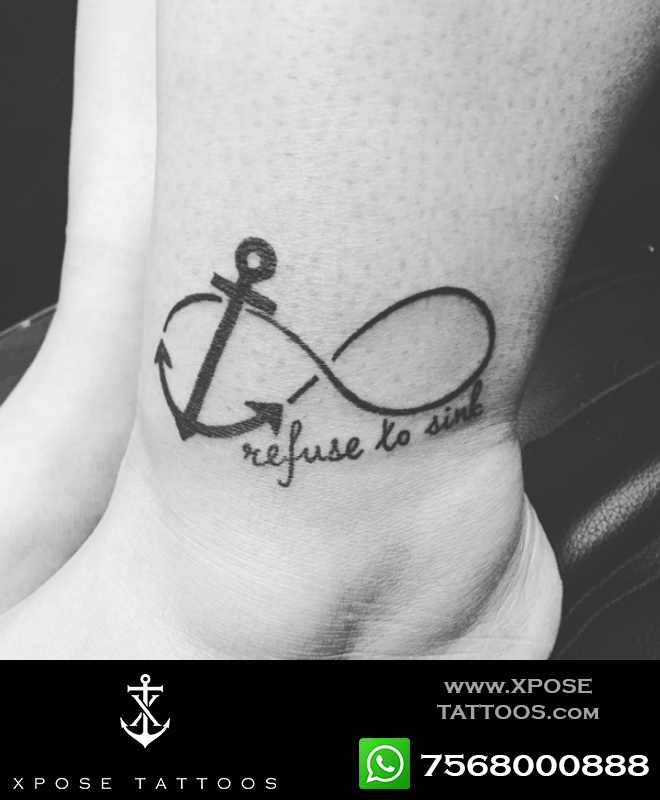 I refuse to sink with anchor tattoo done at Xpose Tattoos Jaipur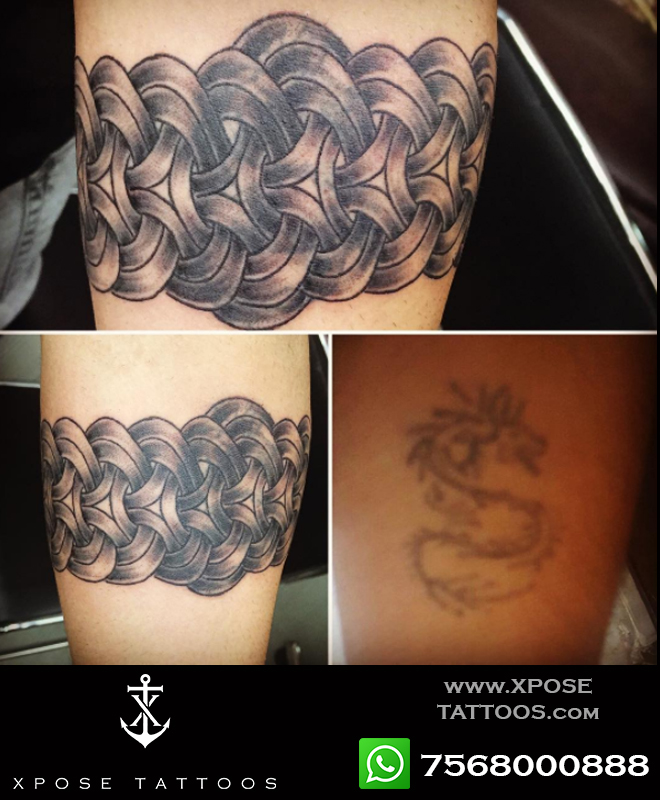 Before and after, celtic armband cover up tattoo done at Xpose Tattoos Jaipur.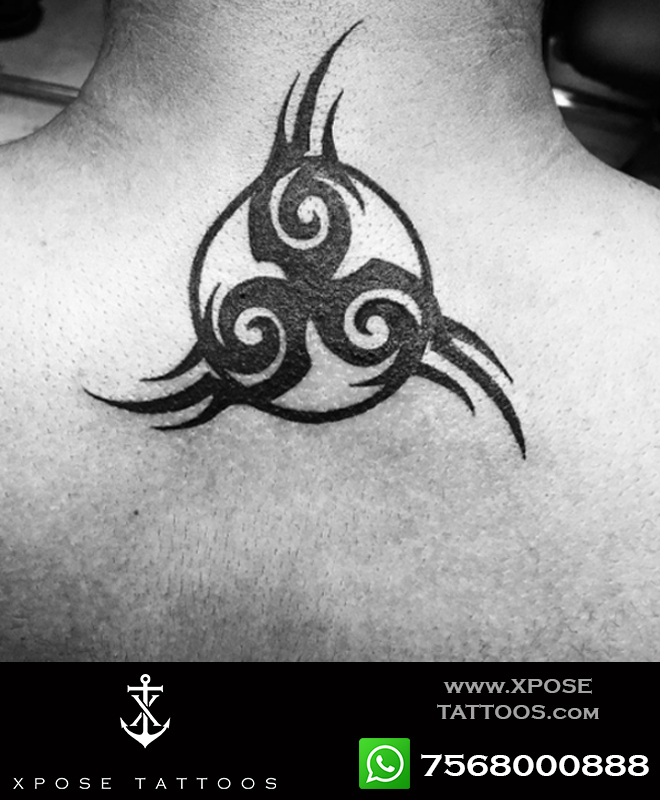 BDSM emblem tattoo in tribal form at Xpose Tattoos Jaipur.
This really amazing client who loves to travel, came to us to get a tattoo done which would describe him..He was open minded to all the suggestions our team came up with.
"Wanderlust" it's not just a word but an entire experience in itself and we thought what else would be better than a Compass tattoo?! It signifies the love our client has for travelling..and he was happy to get it inked by us
Some people don't get to travel as much as they want to because of their work or other reasons.. Yet they decide to get a compass tattoo. It gives them more motivation and inspiration to travel and pursue their dreams. Tattoo done by Sunil at Xpose Tattoos Jaipur.
Small butterfly Tattoo done at Xpose Tattoos Jaipur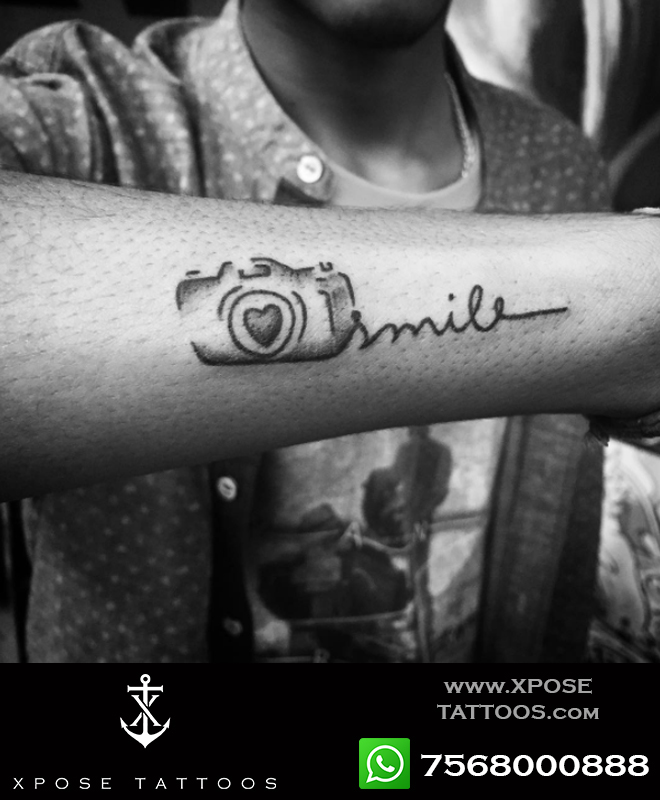 Smile with a camera tattoo for an upcoming talented photographer done at Xpose Tattoos
INK that gives you WINGS!!!
FLY HIGH only @xposetattoosjaipur — THE ART FOR YOUR SOUL!!!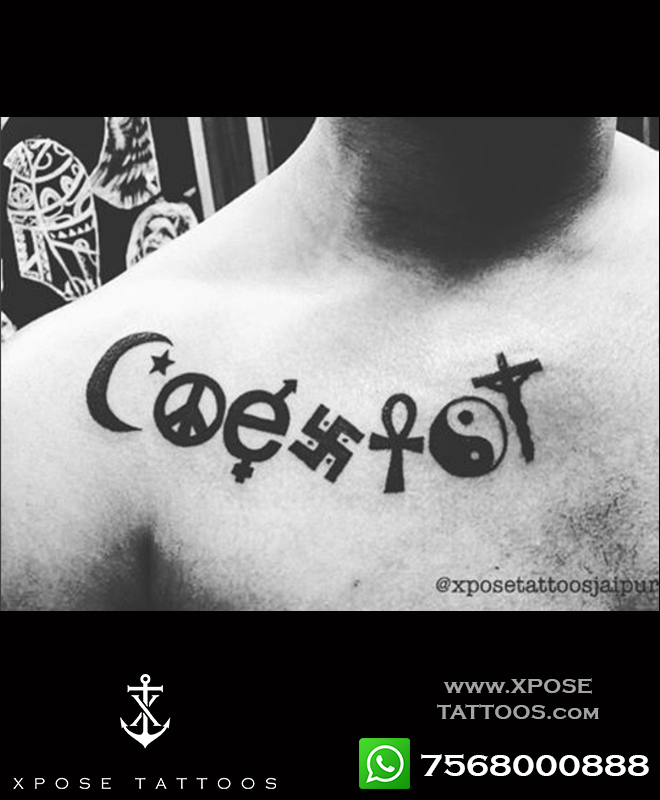 "C O E X I S T" tattoo done @xposetattoosjaipur ✅ .
This tattoo reveals many religious symbols along with the peace symbol. ☪️☮️☦️☯️✝️ Every letter represents an individual system of thought.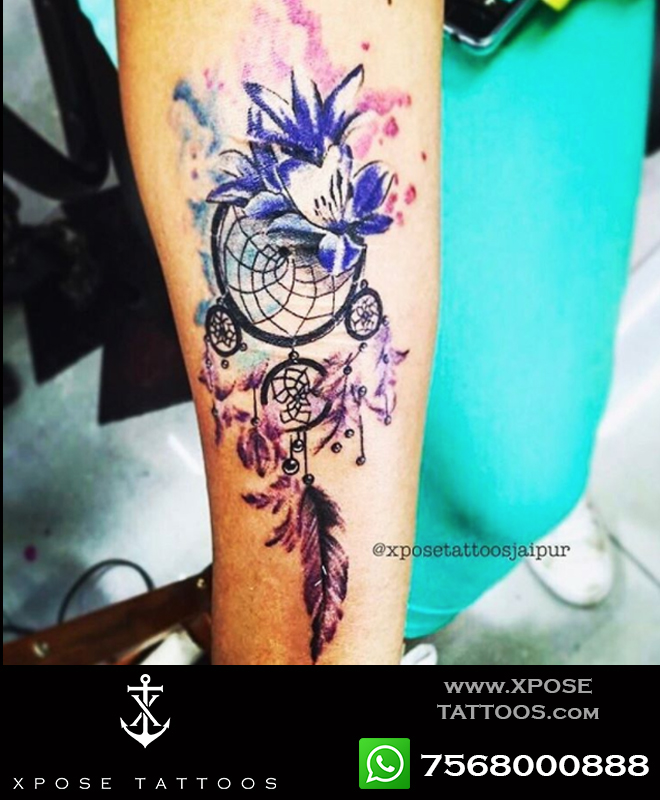 DREAMCATCHER watercolour tattoo done ✅ ❣️
.
Dreamcatchers represent the symbol of a rich cultural heritage, and at the same time they keep negative and evil energies away. They protect the person who wears them against nightmares and bad dreams, while helping nice and joyful dreams to enter his or her mind.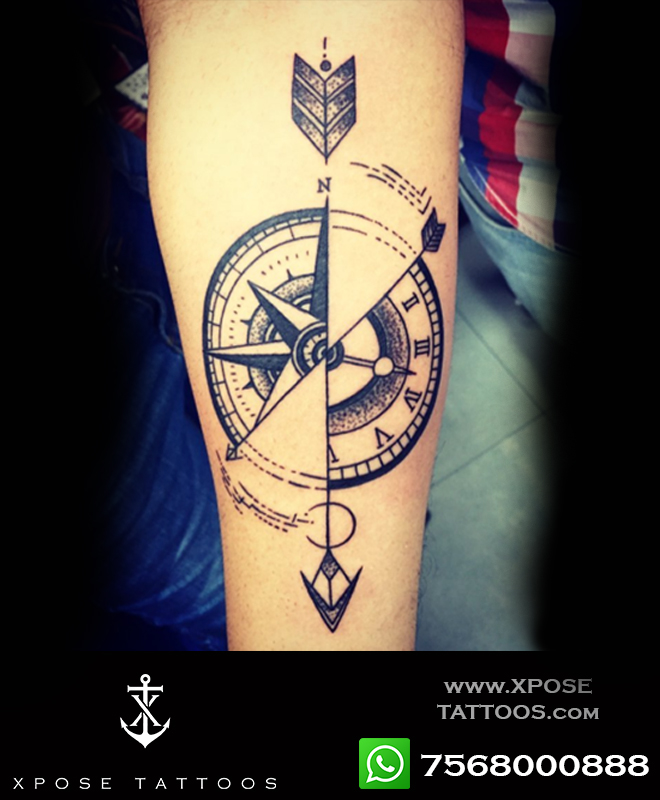 If you are forever wandering, a compass will always guide you where you need to go. Compass tattoos look great with their round shape and etched bearings and will remind the wearer that they are never lost, always simply on a journey to somewhere. It was believed that having a compass tattoo provided protection and much needed guidance. Today people often get a compass tattoo for the same reasons.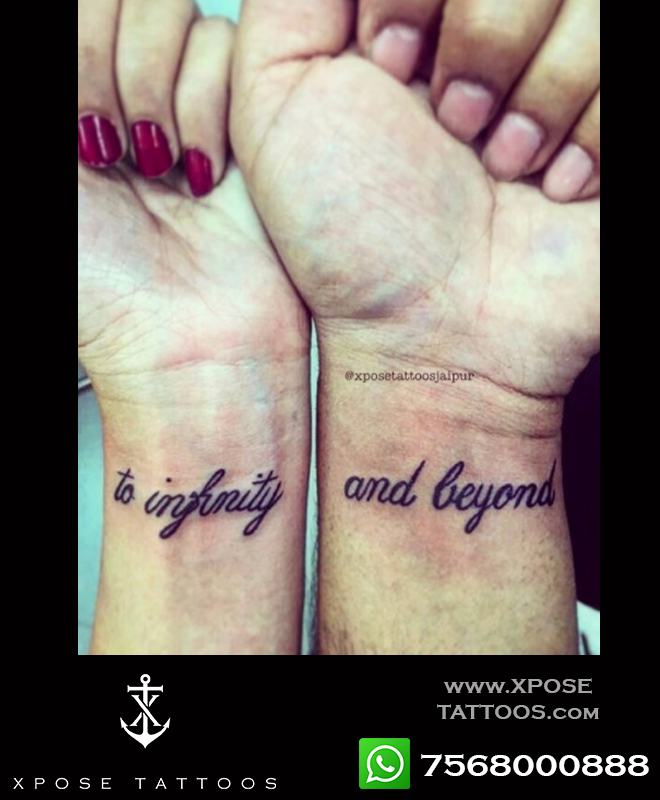 "To infinity, and beyond.." : Show off your love like these clients of ours did by getting Matching-Couple Tattoos!
@xposetattoosjaipur ✌️
Client came to us feeling very disheartened with his older tattoo.. We, at Xpose Tattoo Studio have an expertise at covering up tattoos . We suggested our client with this Buddha Tattoo Design and explained him how it will turn up when it's done. So here it is.. The cover-up with a Buddha Tattoo which is still under progress! Can't wait to complete it design by Fu Hai Lin
Client wanted to dedicate a tattoo to his dad who rests in peace. Tattoo done at Xpose Tattoos Jaipur. – [ ] www.tattoosjaipur.com Contact : +91-7568000888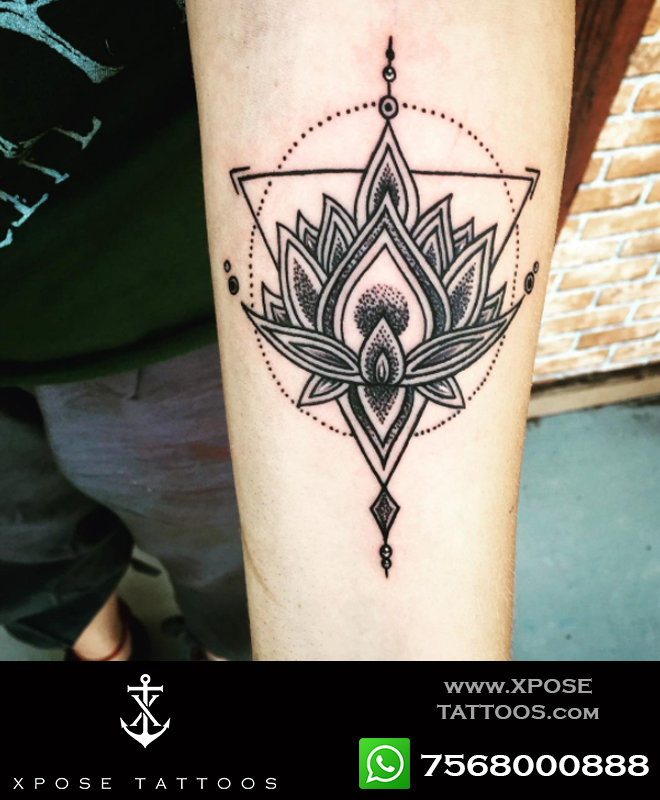 Original design by @celiline_art
Did some modifications and added dotwork for @lucyneville_ who couldn't resist coming back for her second tattoo after looking at this design. Thank you Lucy for trusting us with your skin. The lotus in this tattoo is used to represent divine beauty and purity, while the unfolding of its leaves represents the expanding of the soul and spiritual awakening.
Mandala tattoos fall into the category of spiritual tattoos as they have deeper spiritual meaning. Mandala tattoos largely resemble floral tattoo designs but differ a lot when it comes to the meaning aspect of the tattoos. The literal meaning of mandala, which is a Sanskrit word, is circle and like a circle, the mandala represents wholeness. A circle also denotes balance, perfection nd eternity.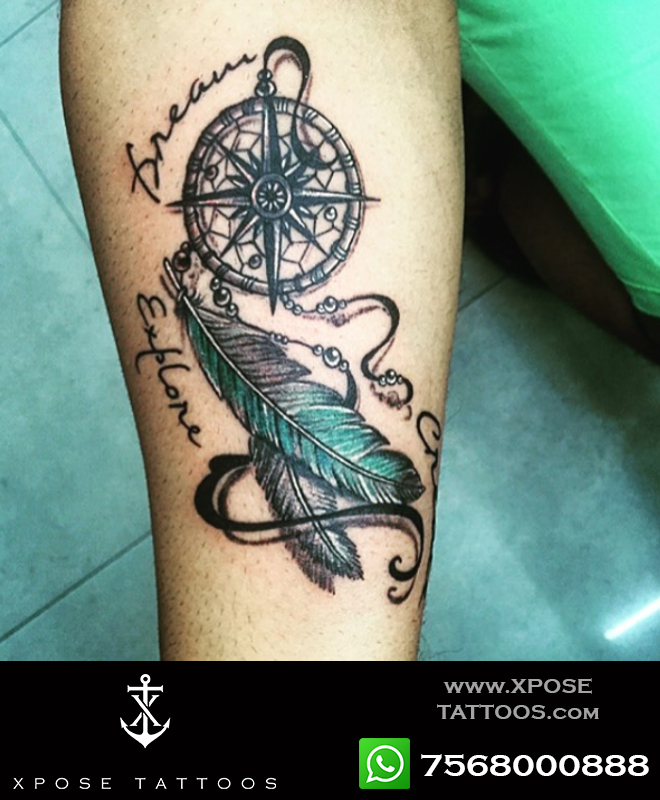 Dream. Explore. Create. With a Compass and Dreamcatcher Tattoo. Pankaj who got this tattoo is a designer in an export house and is fond of tattoos. He wants to travel the world and explore n learn things and then create new designs and stuff. What beautiful way to describe his inner feelings through this wonderful tattoo.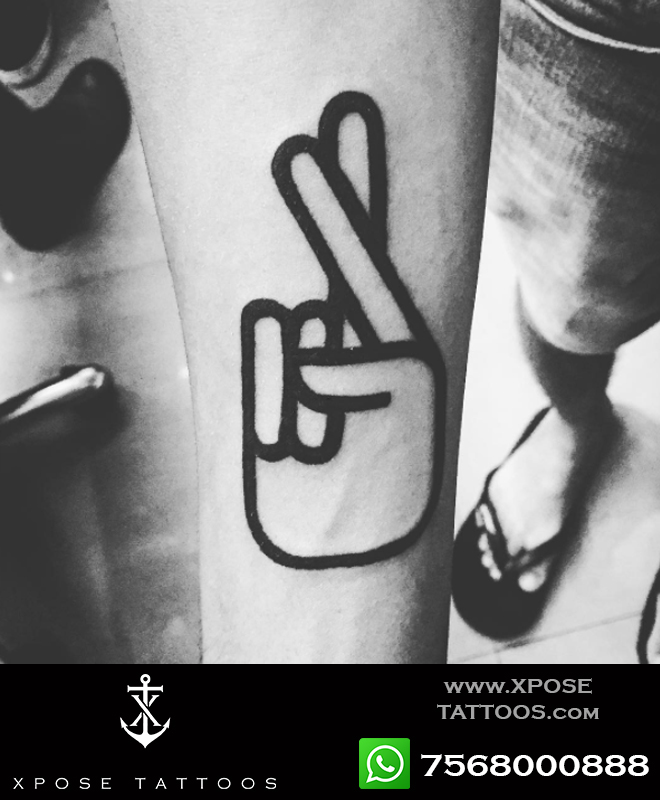 ✌️✌✌✌✌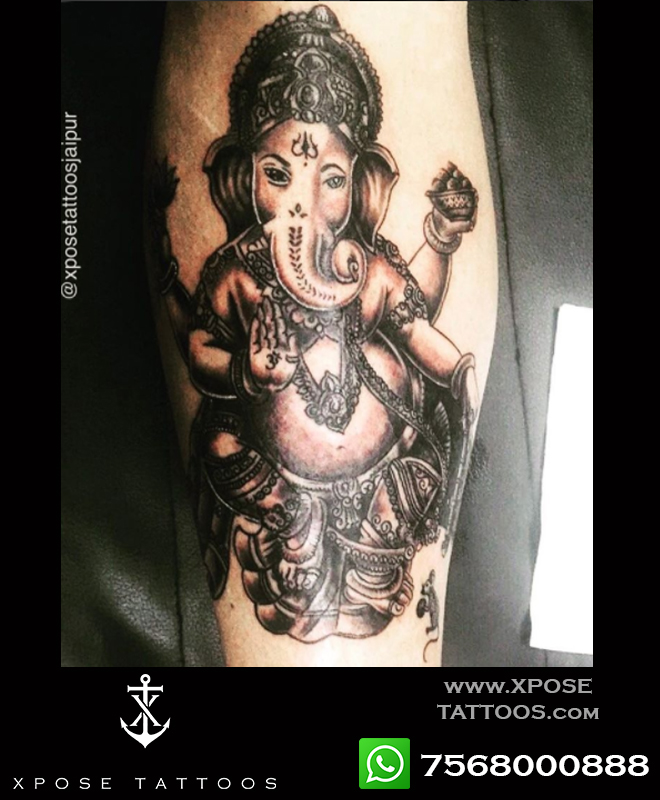 "Ganesha" tattoo done @xposetattoosjaipur few days back
Turned out even better than expected
"Removal of obstacles"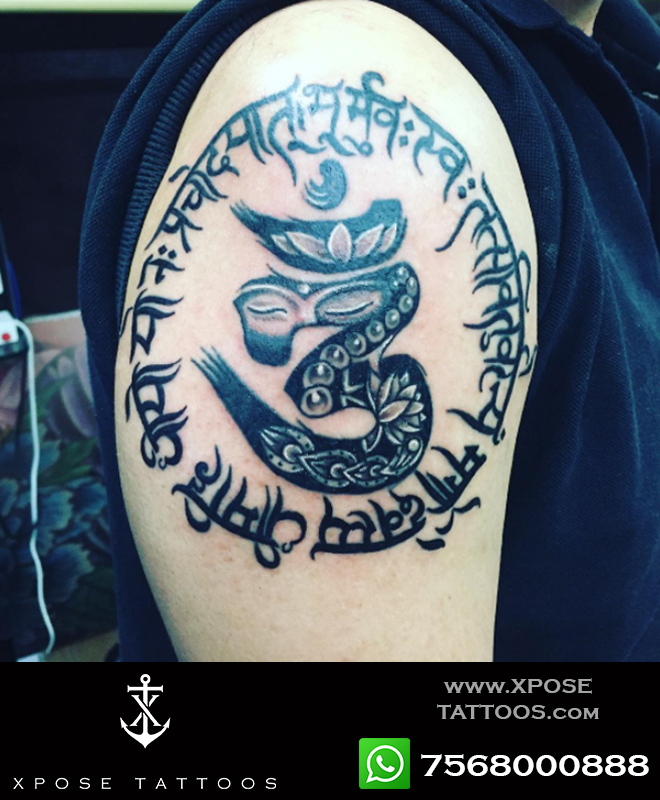 Gayatri mantra tattoo with a buddha face inside om done at Xpose Tattoos Jaipur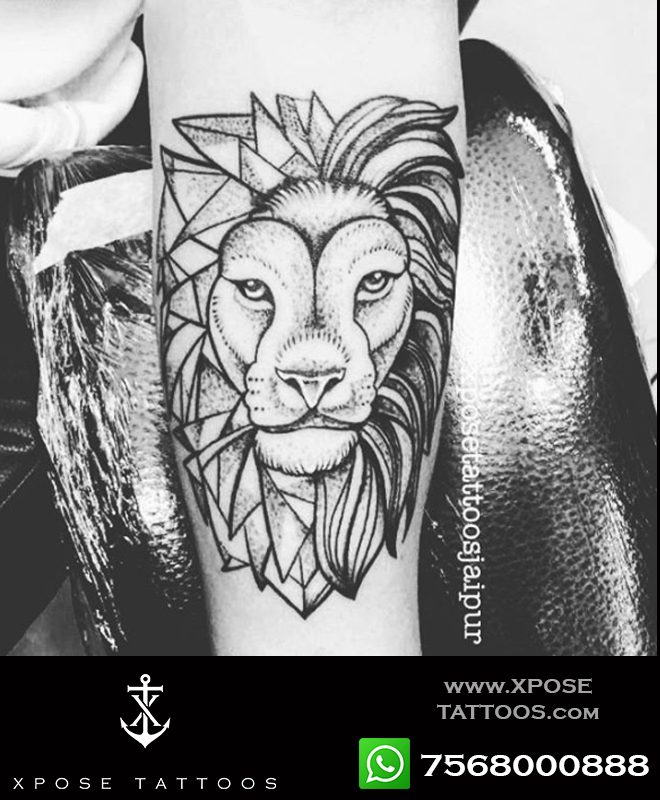 Kudos to our client for getting this beautiful "Geometric Lion Tattoo"
.
There's no denying in it, the lion is a ferociously vital symbol, conveying COURAGE, STRENGTH, PRIDE & ROYALTY!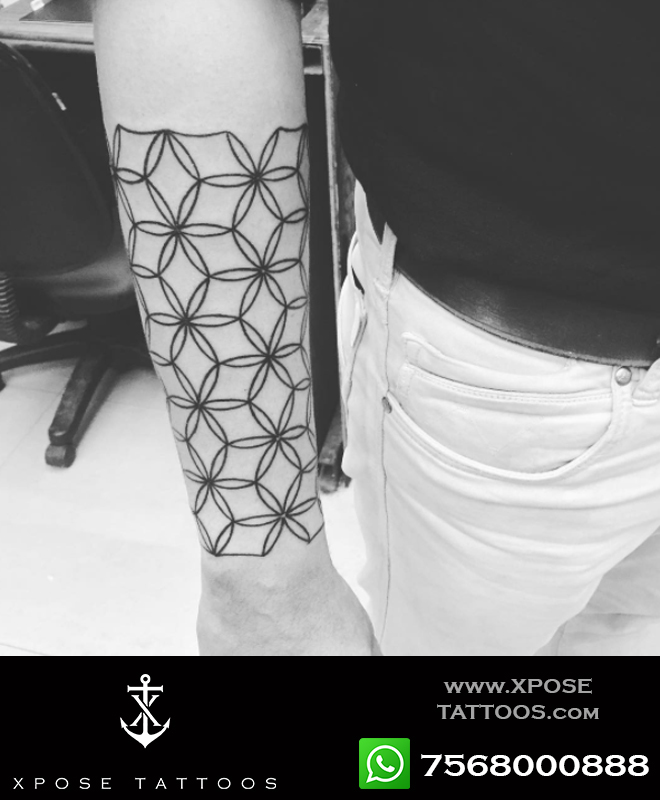 Linework done for this geometrical half sleeve tattoo, watch out this space for more ✌️✌✌
Geometrical tattoo on arm for a very talented designer, done at Xpose Tattoos Jaipur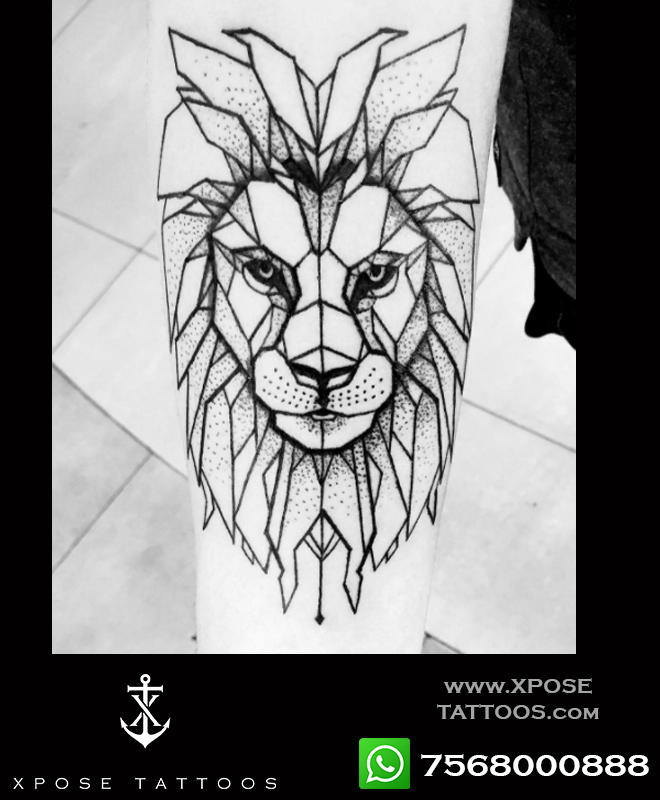 Geometrical Lion Tattoo
Tattoo in Jaipur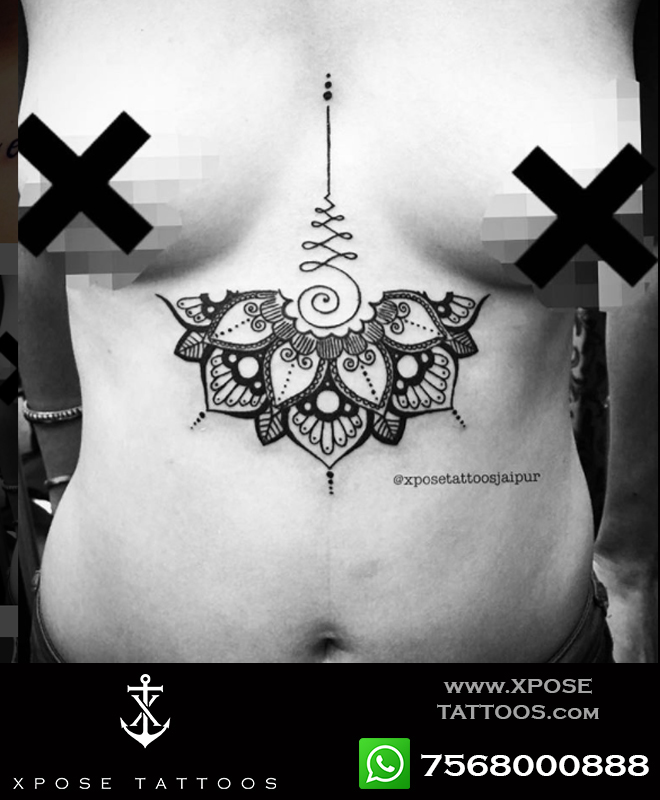 Did a sternum tattoo – "Half Mandala – UNALOME symbol tattoo"
'Unalome' tattoos are spiritual symbols. They are the visual image of reaching enlightenment.
The spiral means our struggle with life, and the straight line shows that we have finally found harmony!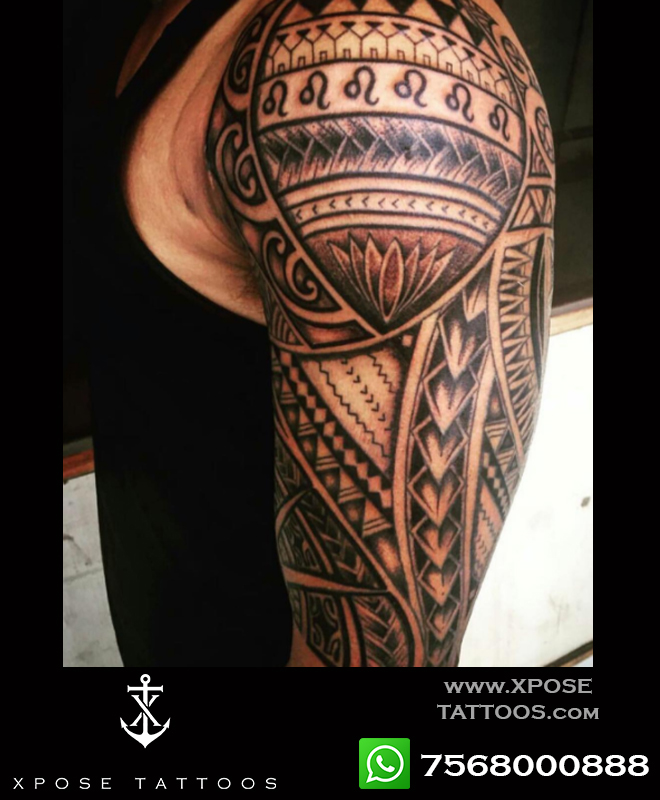 Half Sleeve Polynesian Tattoo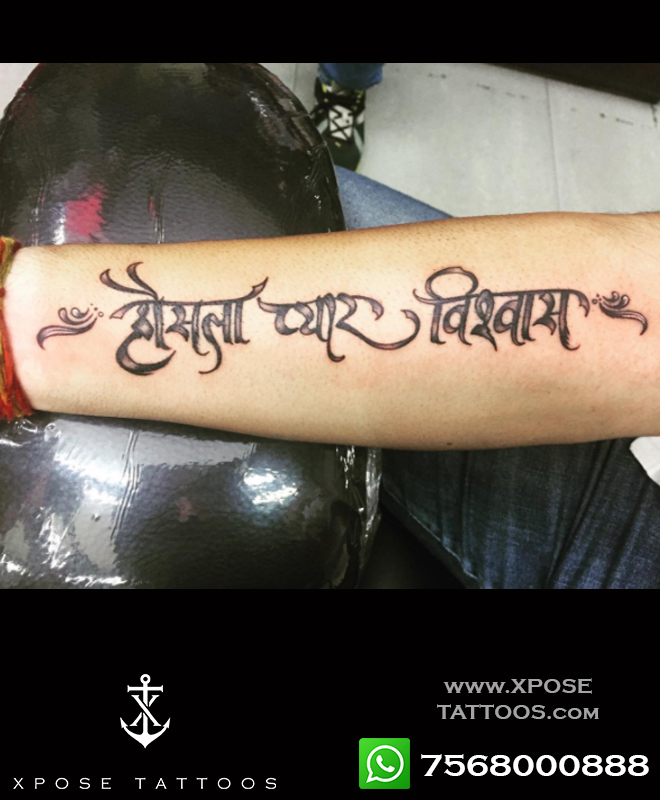 Hindi calligraphy tattoo done at Xpose Tattoos Jaipur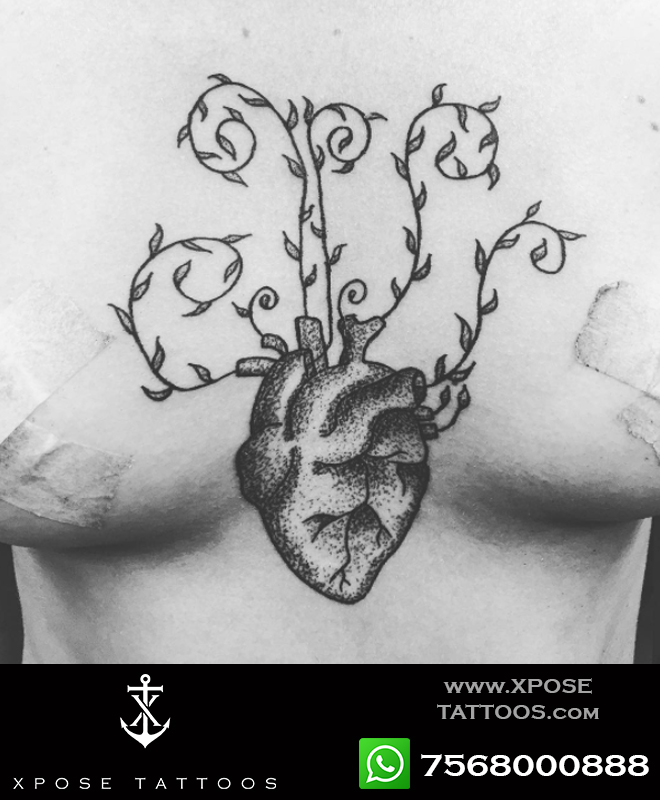 Hearts are the most common symbol of love, passion and adoration, and Vines are a great way to express connection, although there are other meanings for heart tattoos and each heart tattoo will mean something different to each person.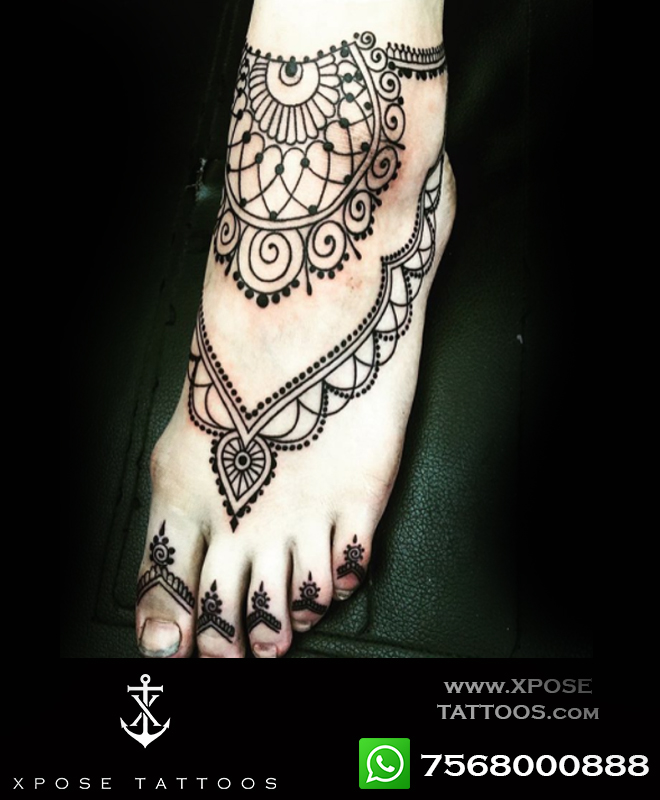 Friedrike came from Germany on a long trip to India. She got this henna inspired tattoo design on her foot coz she wanted something to remind her of this trip throughout her life. Henna tattooing today is used as a popular form of expression for luck and happiness.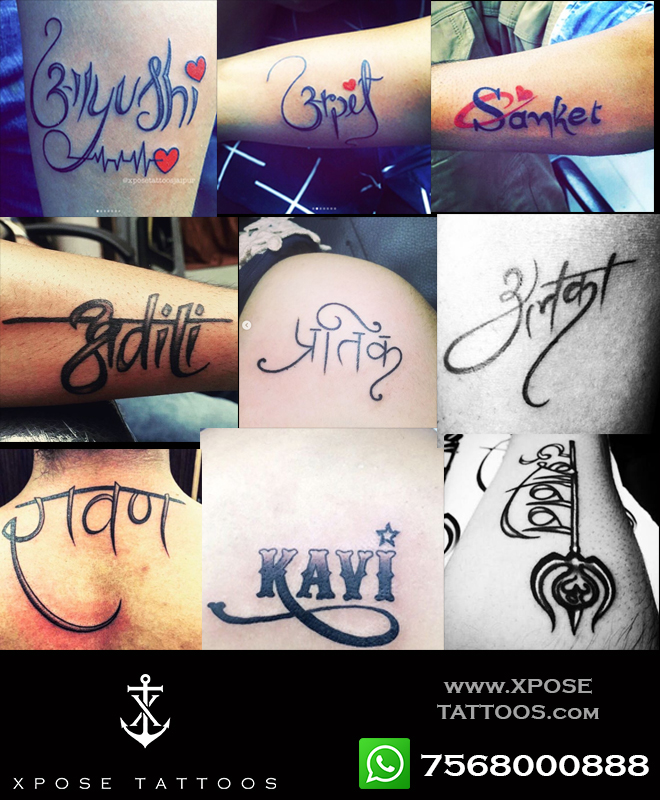 Hindi English mixed text calligraphy name tattoos done at Xpose Tattoos Jaipur.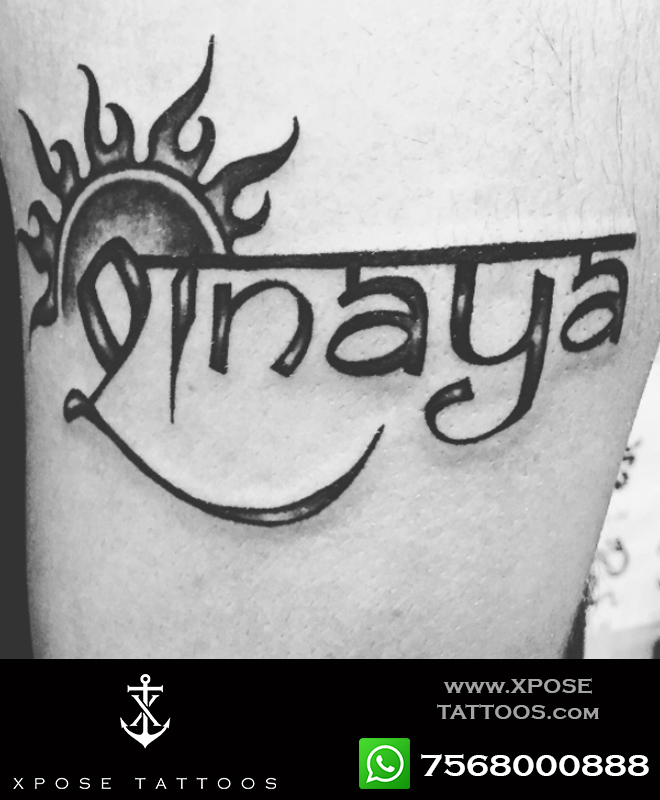 Hindi English mixed text calligraphy name tattoos done at Xpose Tattoos Jaipur.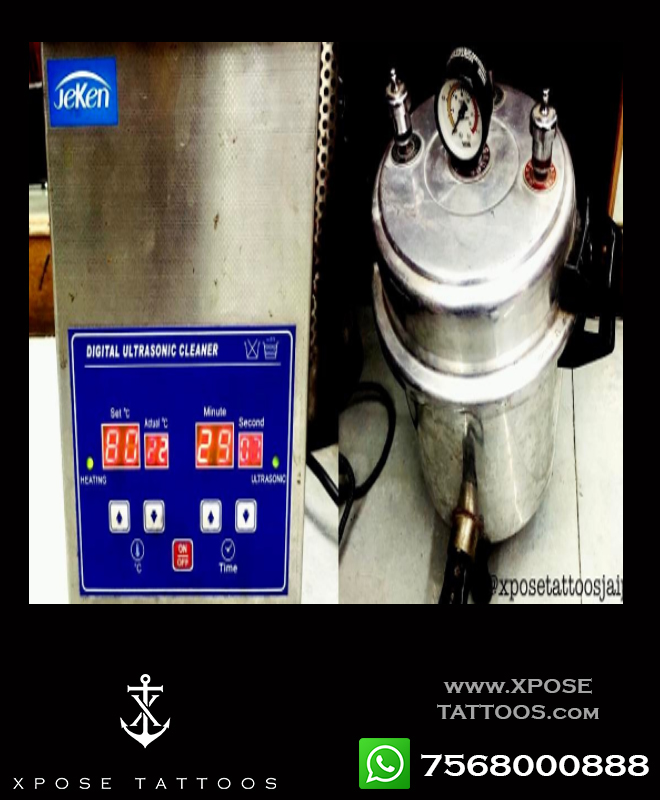 We clean and sterelize our equipments daily using digital ultrasonic cleaner and autoclave which uses high pressure and heat to kill all the microbes, bacteria and viruses if there are any.
.
Apart from our beautiful work, we are known for the cleanliness and hygiene we maintain. It is our most important duty to provide safe services to our clients, and never to compromise on the quality and hygiene. ☺️
.
Simple text tattoo (I am because you are) done at Xpose Tattoos Jaipur. Contact : +91-7568000888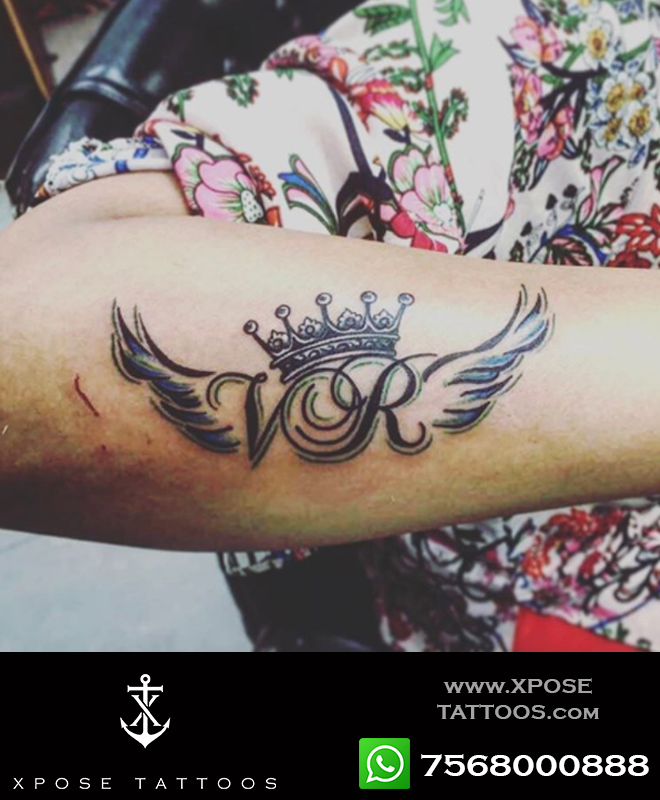 Client wanted to get an Initials' Tattoo done, our team at Xpose Tattoos gave her a lot of ideas and helped customise the tattoo by adding a Crown and wings along, giving the whole tattoo an amazing look!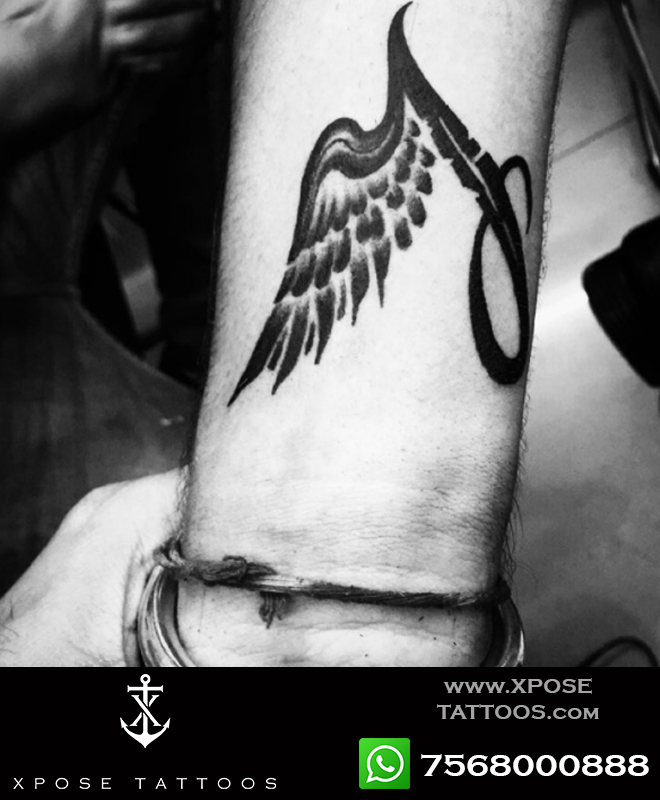 Initial J with wing tattoo done at Xpose Tattoos Jaipur.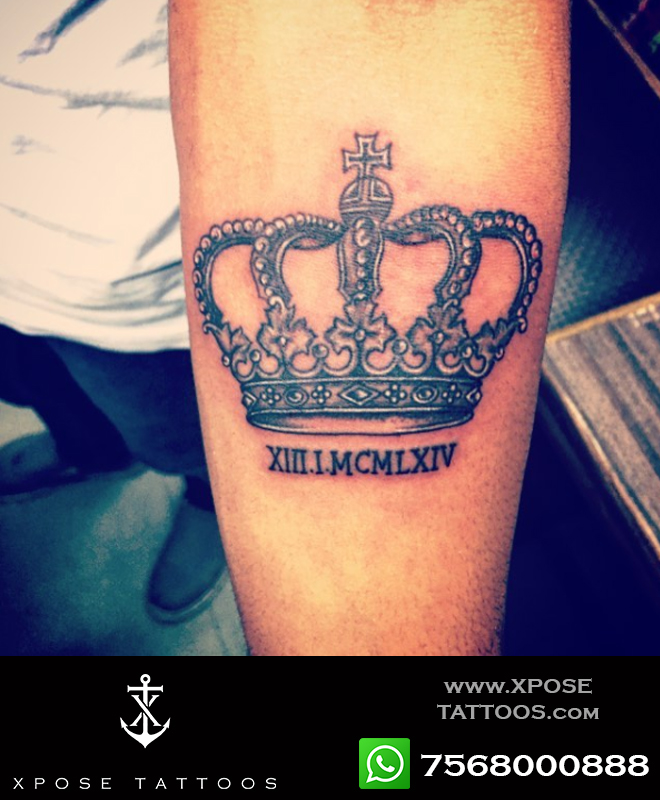 Crown Tattoo with roman numerals done at Xpose Tattoos Jaipur.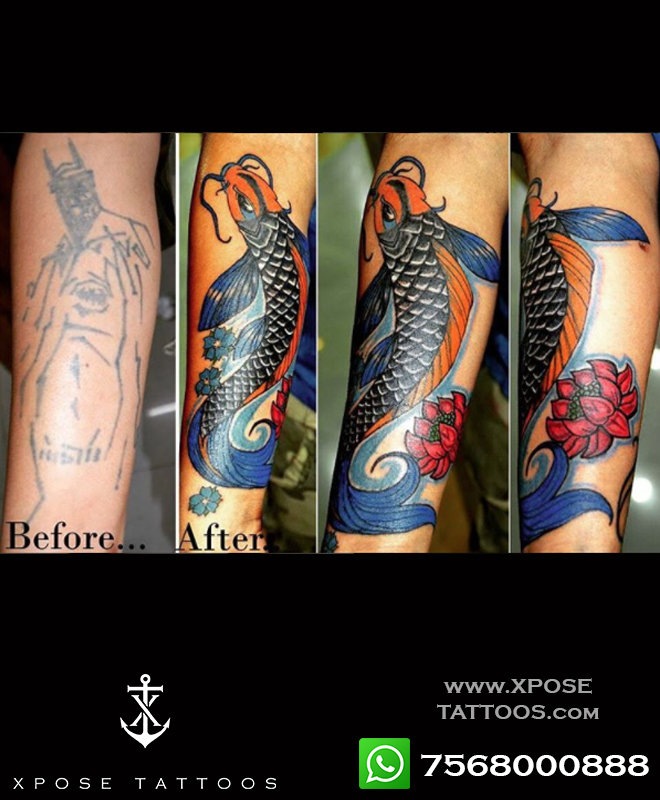 Cover up tattoo by a Japanese Koi Fish tattoo done at Xpose Tattoos Jaipur.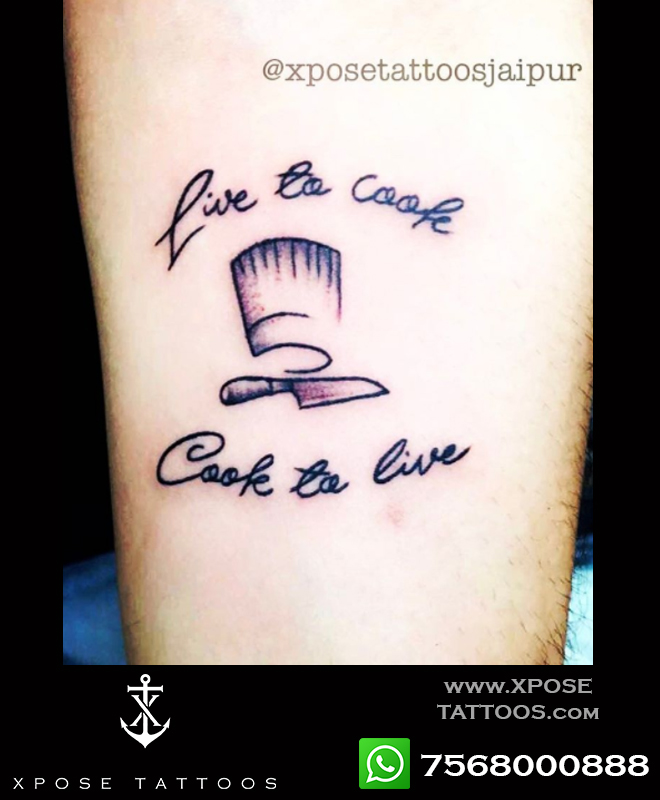 Yesterday @xposetattoosjaipur , we created a customised tattoo design for a chef and his love for cooking food!
.
Customised tattoos are always our first instinct at our studio, if the client doesn't have a particular design in mind.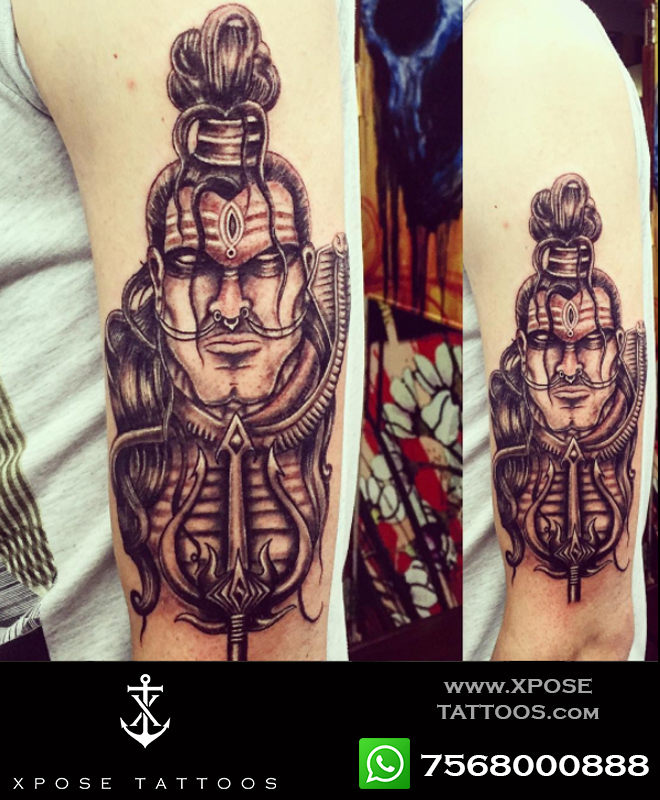 Lord Shiva tattoo
Who says Infinity tattoos have become very common or boring?! One should know from where to get it done, to get different customisations for the same tattoo!
Our client came to us to get an Infinity tattoo symbol done, but asked us if it's too common to just get a simple symbol inked. Our experienced artists at @xposetattoosjaipur gave her several variations & customisations for the infinity symbol and we finally decided to put this quote up in the shape of infinity symbol.
"LIVE THE LIFE YOU LOVE THE LIFE YOU LIVE" ❤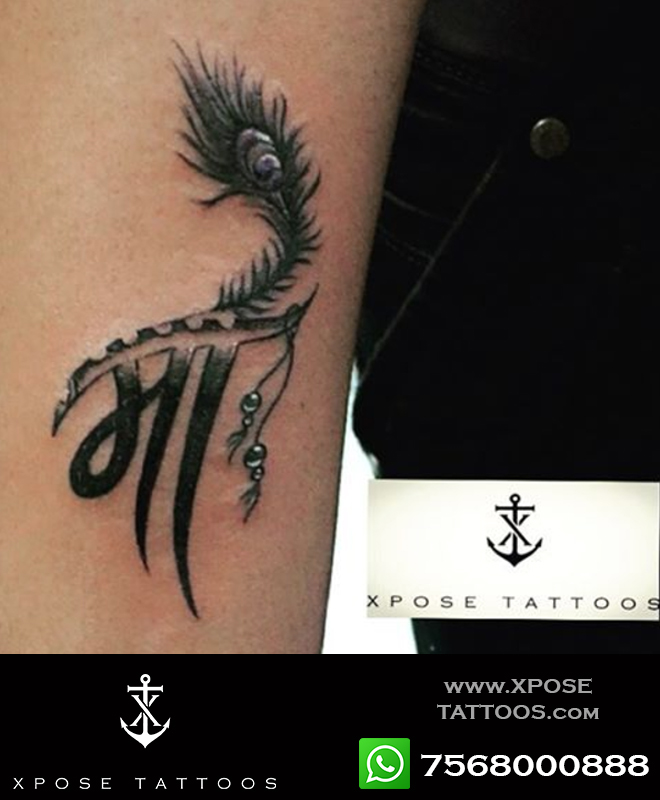 Maa tattoo with peacock feather done at Xpose Tattoos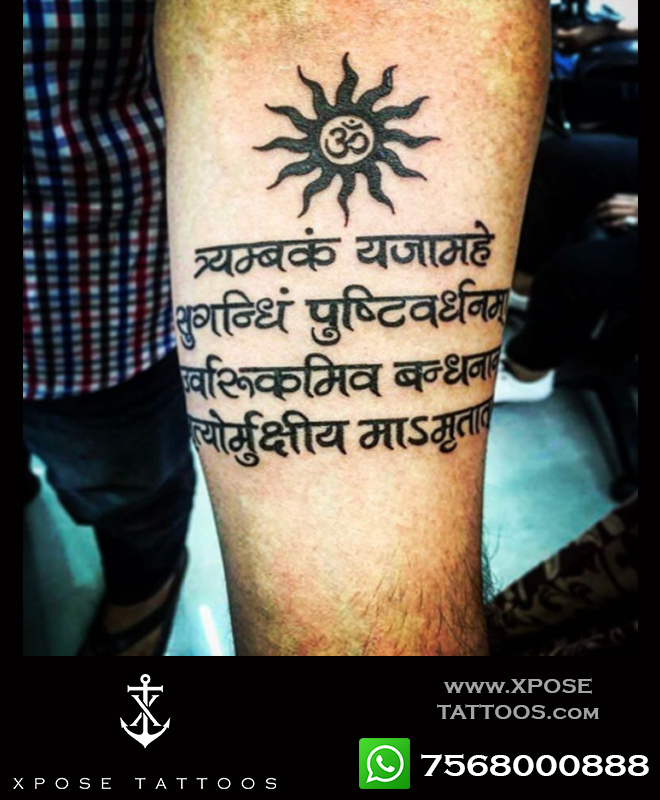 "MAHAMRITYUNJAYA MANTRA"
It is said to be beneficial for mental, emotional & physical health, and to be a moksha mantra which bestows longevity & immortality.
This mantra is addressed to Lord Shiva for warding off death!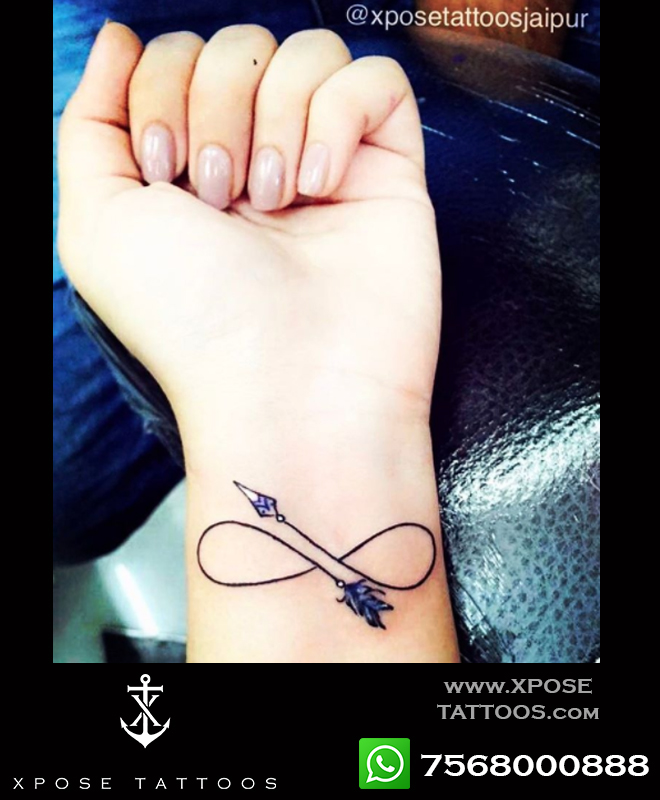 "MALIN" – A small tattoo design we did yesterday for a client.
.
The 'Malin' symbol looks like an infinity symbol with arrows in the middle. It means – You need to experience setbacks to be able to move ahead!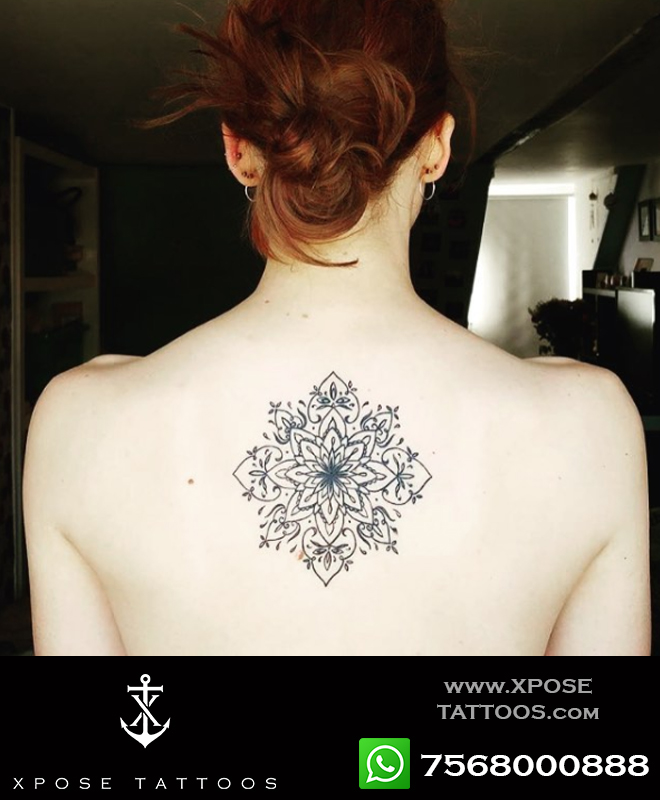 Zoe- "I had stayed in India for a month volunteering for a women's empowerment project in a girls school, and fell in love with the country and its culture and spirituality, and decided to get a tattoo of one of my favourite designs, a mandala, so I could remember India and my experience forever."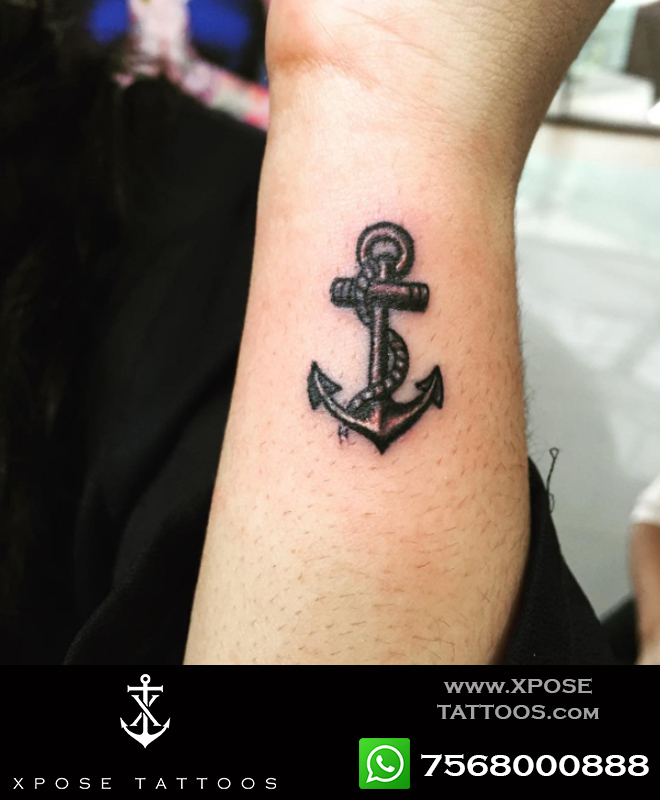 Miniature anchor tattoo at Xpose Tattoos Jaipur.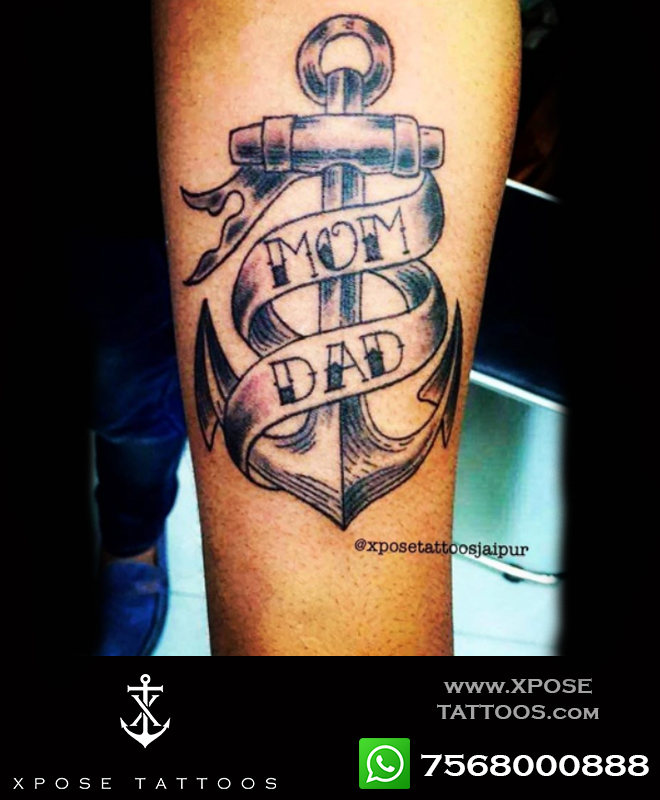 "ANCHOR" tattoo ⚓️ with MOM-DAD written, done ✅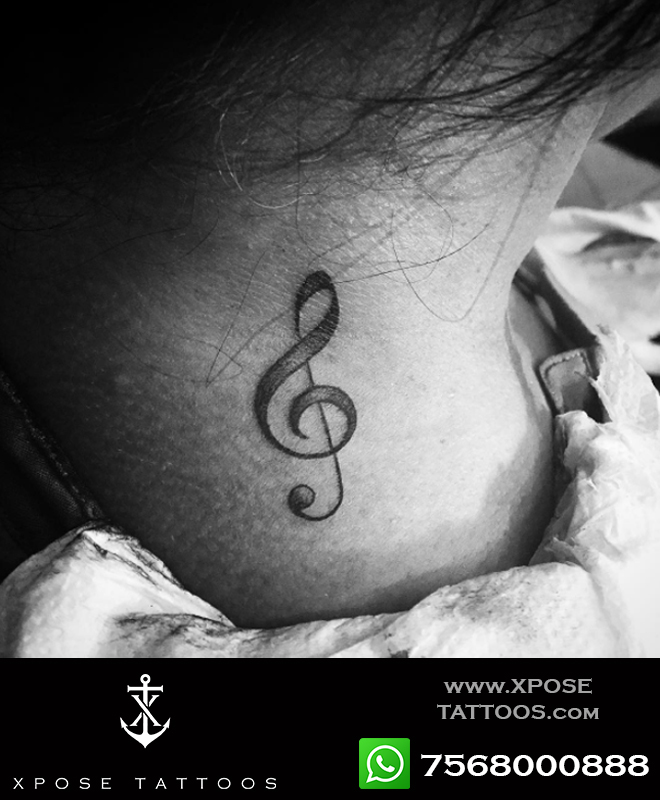 Small musical note tattoo on neck done at Xpose Tattoos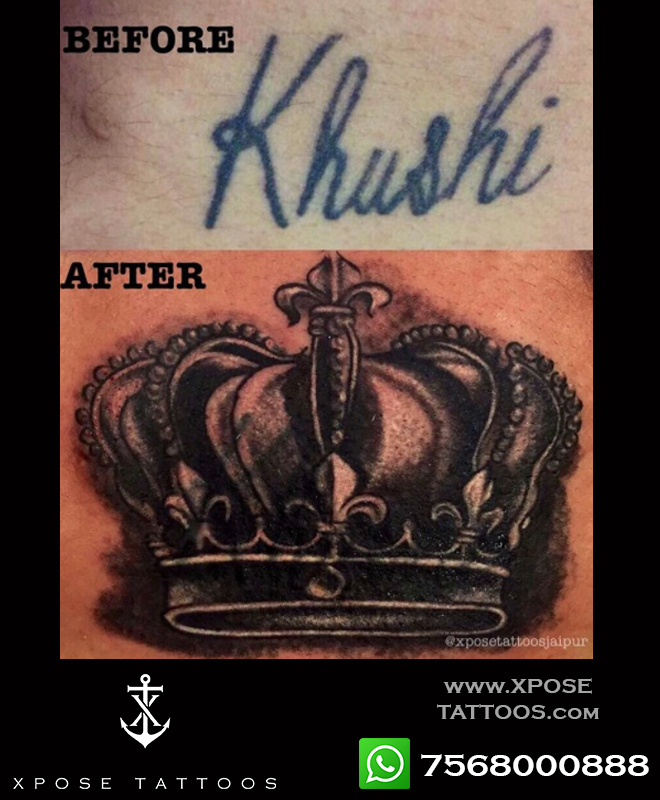 We all make mistakes every now and then, and some people make some permanent mistakes of getting a bad permanent tattoo that they regret later!
.
But worry no more, we, at Xpose Tattoos, cannot erase your older mistake but can sure as hell cover it up for you so you never get reminded of the old one ever again!
.
Just like how this client of ours came up to us with an old name tattoo, but we covered it up for him with a crown!
We all make mistakes, but that doesn't make you less of a king!
.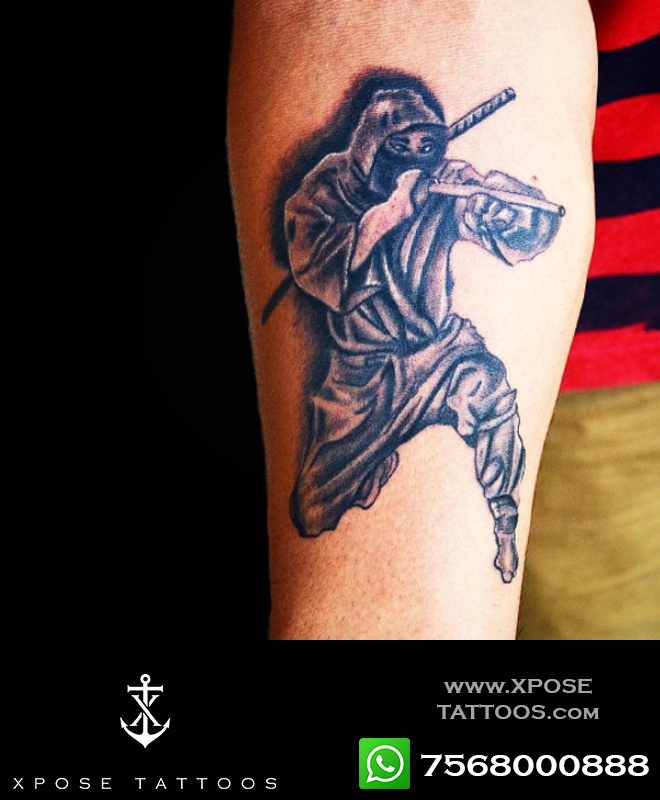 Once you become fearless, life becomes limitless." Ninja tattoo done on Niket at Xpose Tattoos Jaipur.
Nirbhau Nirvair tattoo in punjabi meaning
Nirbhau(निर्भय) = without fear or fearless
Nirvair(निर्बैर) = without hate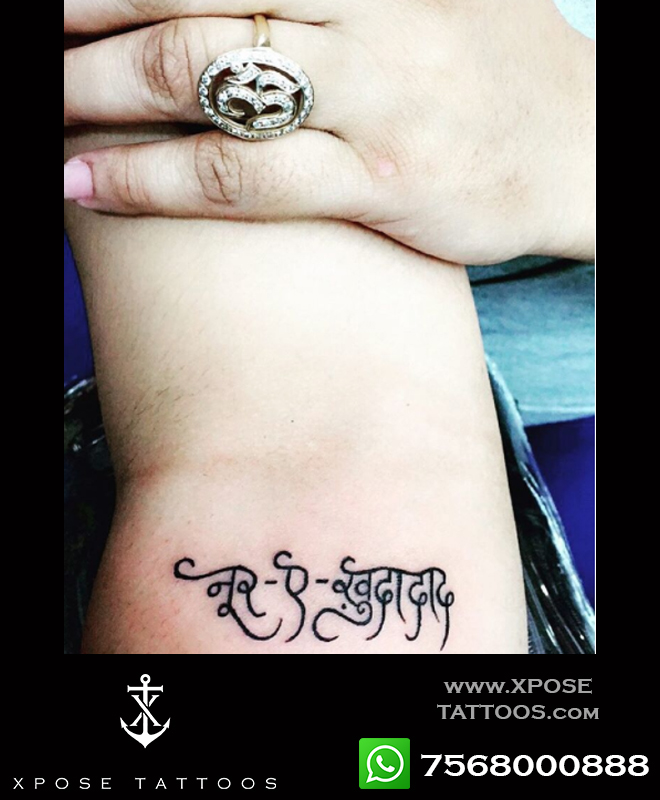 Hindi Calligraphy Tattoo 'Noor-E-Khudadad' meaning light created by God/divine light/ Divya jyot, done at our studio Xpose Tattoos Jaipur.
Words from Simran who got this tattoo for her dog- "I love Juno.
I love him because he has loved me even when I was the most unlovable person that could ever exist. He has loved me when I didn't pay attention to any of his barks and woofs. He has loved me when no one else has.
There were days I didn't want to come out of the bed; he has joined me in those days, by being by my side, saying nothing, sharing everything.
He has wiped away my tears, literally licked em away &  broadened my smile!
For people may come and go and memories may fade, this life that I share with him is always gonna be a constant reminder of how blessed a human I am to have this not-so-human-yet-better-than-a-human companion!
And now with his name inked on my hand, I have made sure he never leaves me"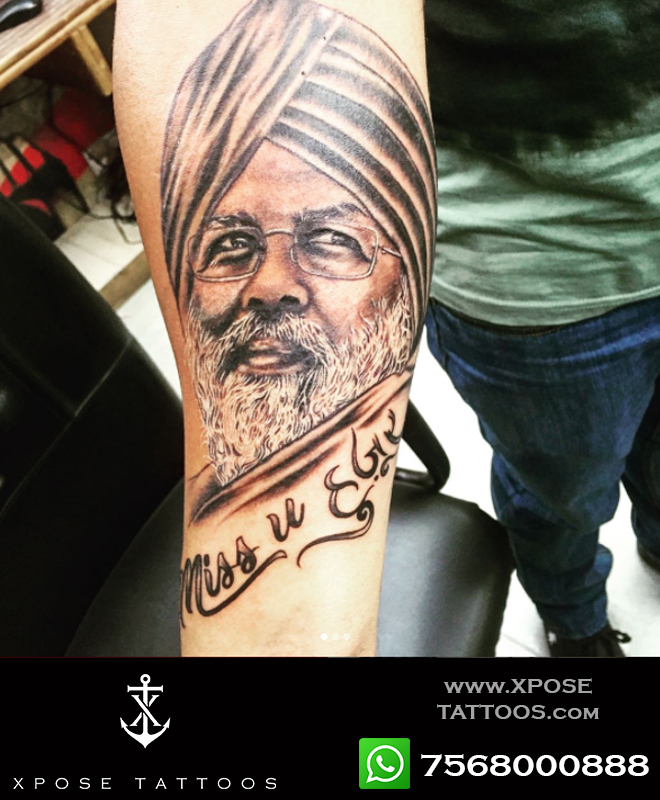 This client came to us, who is a true devotee of Nirankari Baba(Baba Hardev Singh) who was an Indian spiritual guru and chief leader of the Sant Nirankari Mission from 1980 until his death.
Our client wanted to get a tattoo to show his love and respect towards his Guru. When he told us he wanted to get a tattoo for his guru, the first thing that struck our mind was a portrait and our Team at Xpose Tattoos incorporated the idea and the result is in front of you all. We put in all efforts and gave time to help our client.. Our client gave an excellent review and got amazing feedback by his friends! This portrait also got appreciated by the official page of Nirankari Baba!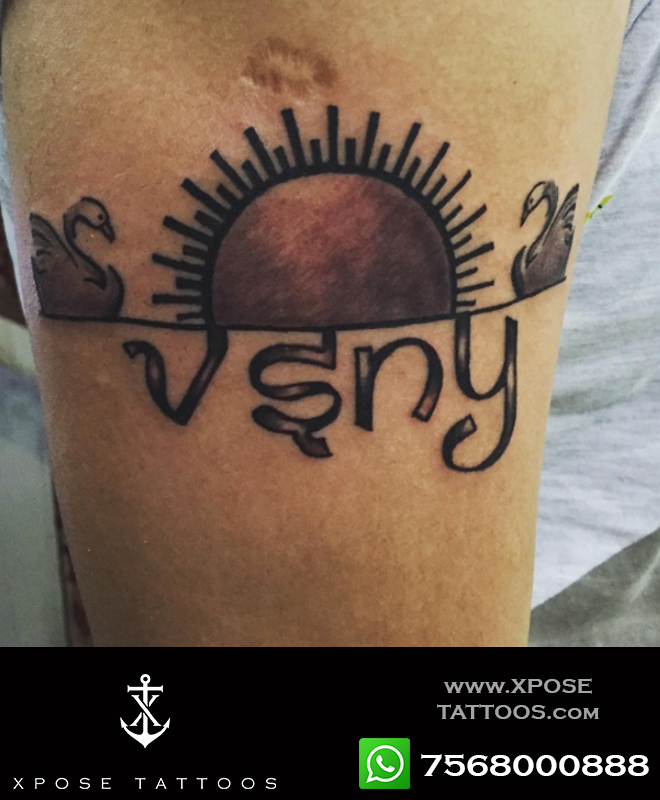 Initials tattoo VSNY with art of living inspired logo design done at Xpose Tattoos Jaipur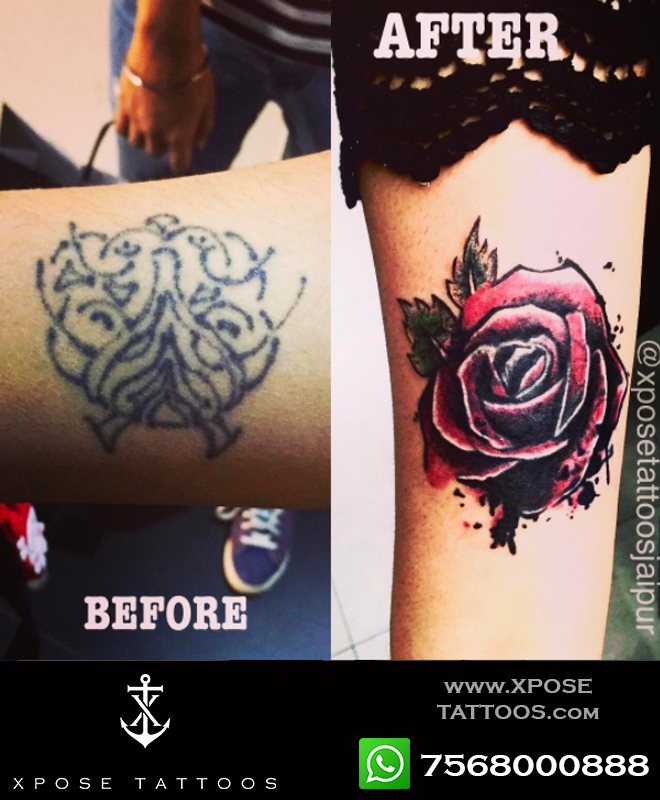 Got ink on your skin that you regret?
Worry no more!!! We, at @xposetattoosjaipur will cover-up your past mistake for you just like we did for this client!
.
Covering up old ink is not an easy job, but it is one of our specialities.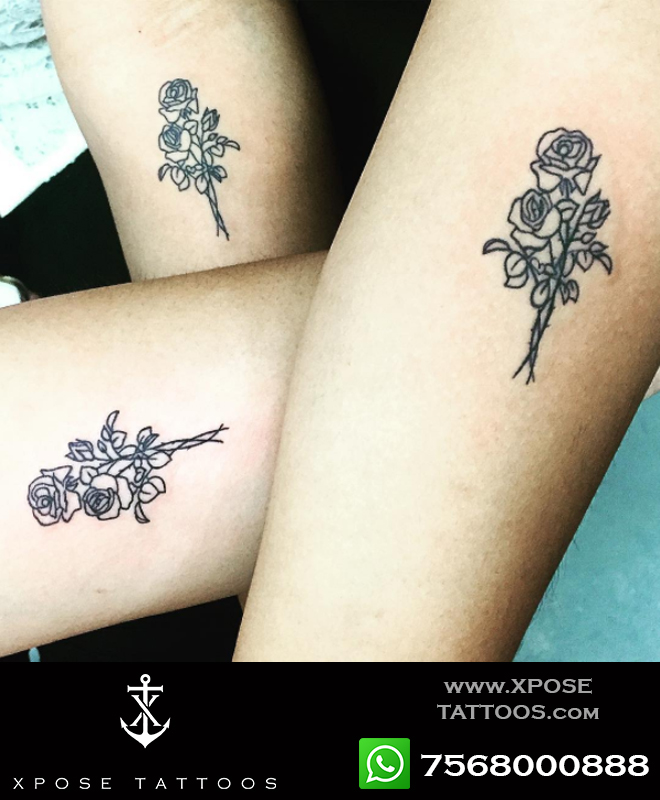 Three best friends came to our studio, looking to get matching tattoos done.. which would also symbolise their friendship. We finally came up with this Rose Tattoo , all three of the clients loved the design ..since the design speaks for itself, expressing FRIENDSHIP, PROMISE, HOPE & NEW BEGINNINGS!
There is something eternally graceful about seeing women carrying a pot on her head. A vision of feminity, balance and sustanence. Our client who was from the UK spent some time in rural India and witnessed the village women carrying their pots daily.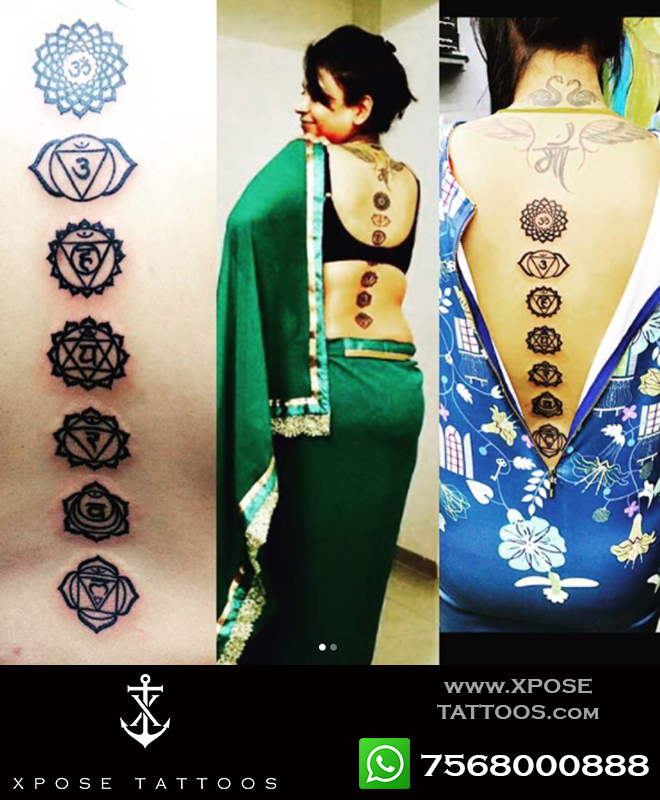 For centuries, chakra symbol mandalas have been utilized to focus in on certain attibutes of the body, mind & spirit. We can focus upon these energy centers by utilizing the power of chakra symbol mandalas!
This client wanted to get all the 7 chakras inked on her back, and they not only looked amazing but made her feel better spiritually as well.
It's all in the "mind"
All the 7 chakras hold different importance and if you are seeking a particular spiritual energy, then one can also get only a particular chakra inked!
Contact us to know more about the 7 Chakras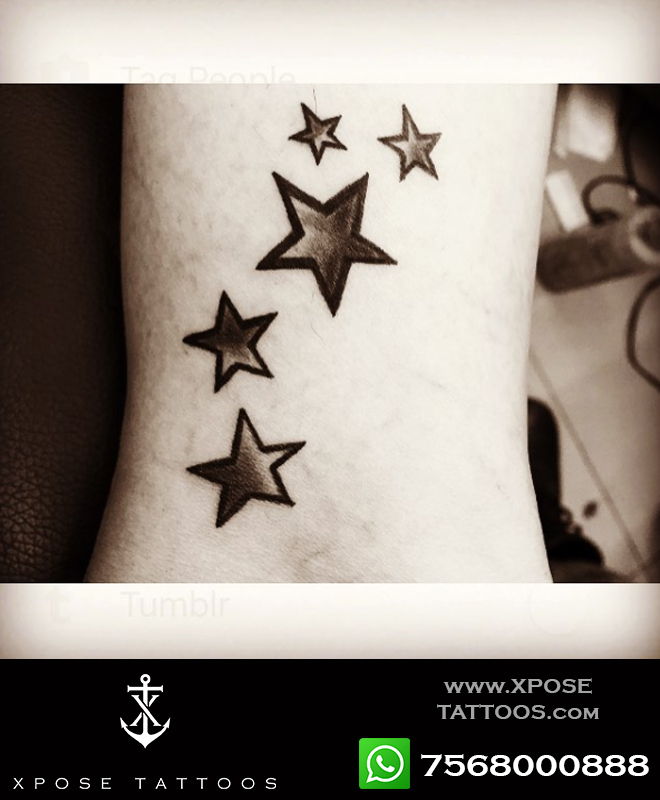 Shaded stars tattoo design on ankle done at Xpose Tattoos Jaipur.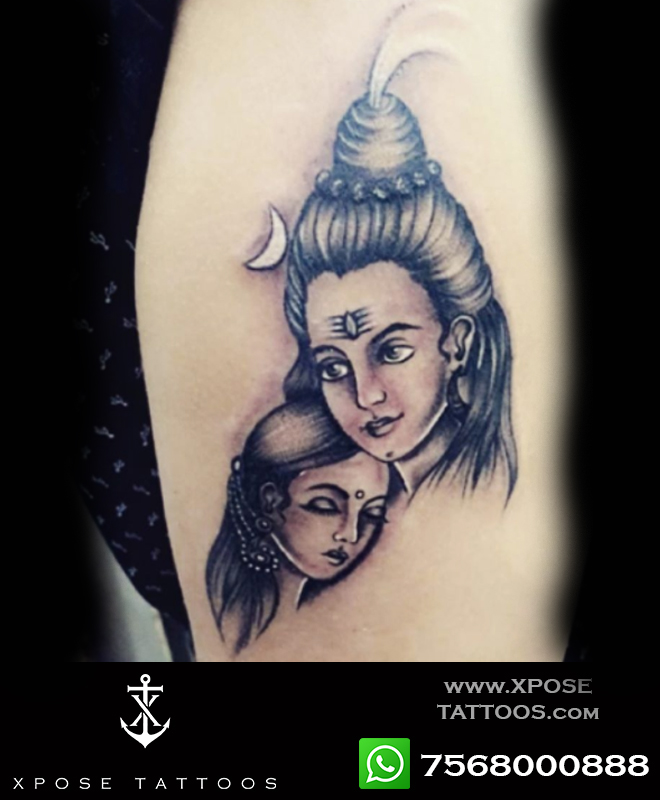 Shiv-Parvati Tattoo done at Xpose Tattoos Jaipur.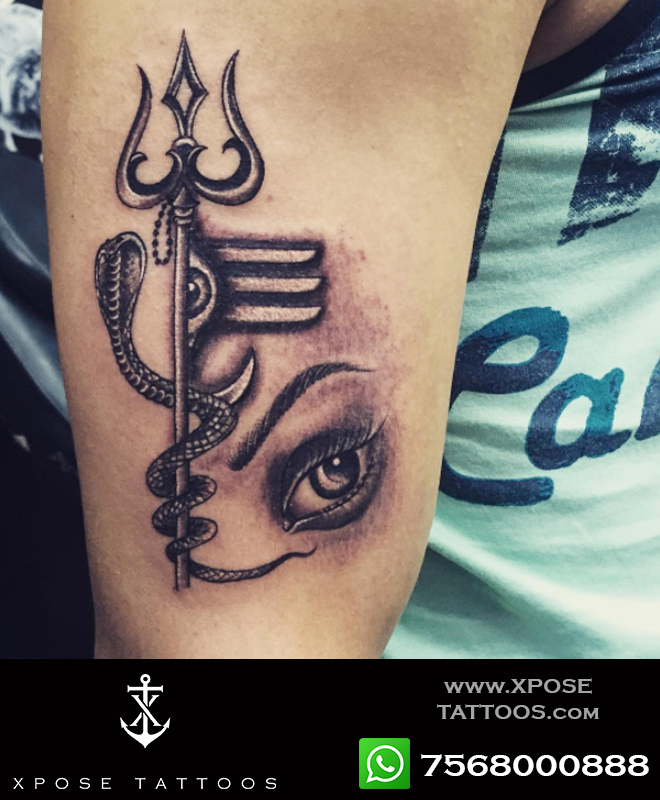 Shiva Eye Trishul Tattoo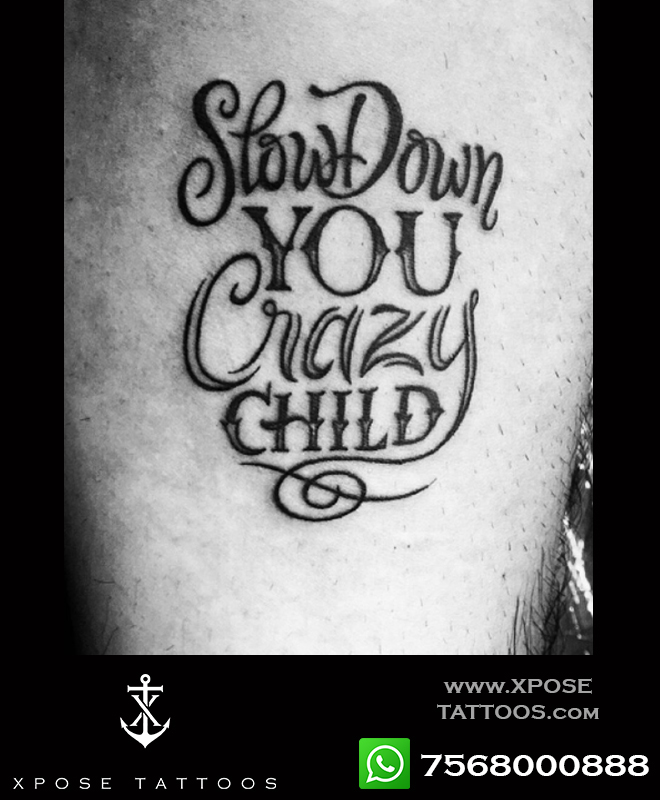 "Slow Down You Crazy Child" quote tattoo at Xpose Tattoos Jaipur.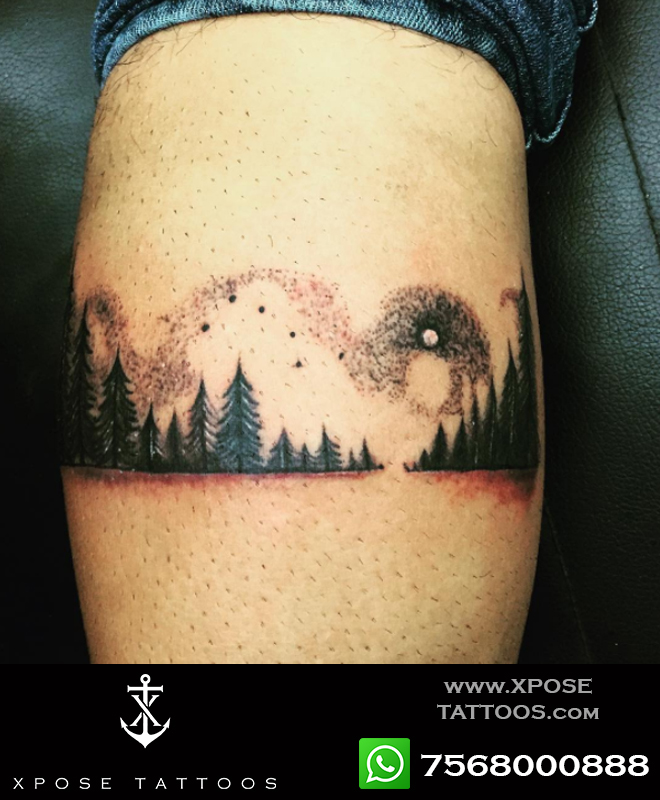 Snow Trees Tattoo band done at Xpose Tattoos Jaipur.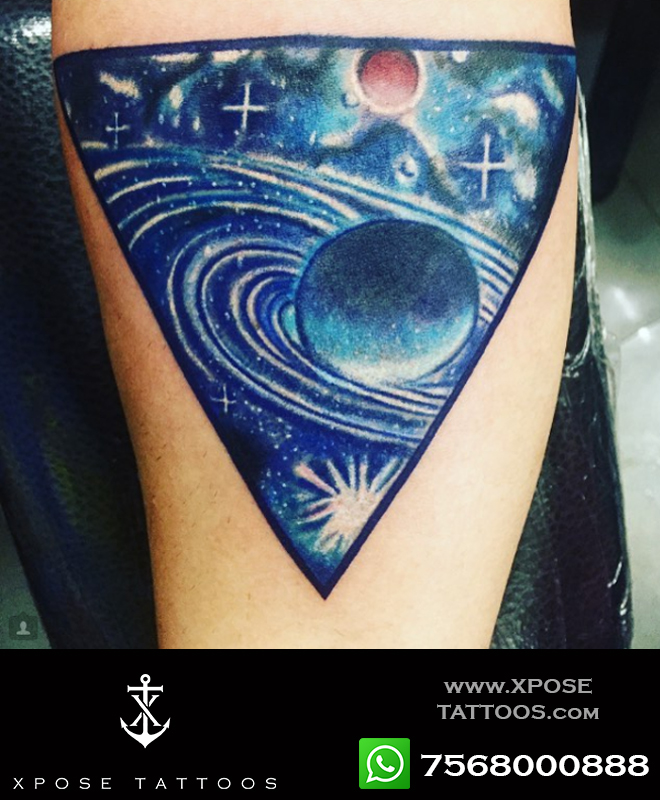 Space tattoos are as mysterious as the universe that they represent, and human beings have been drawing them for many years. Fascination with the cosmos is not a new thing because humankind has always had a great urge to understand it and to figure out what it is all about.
client came to our studio with the idea of getting a Tiger Tattoo done, but he needed help with the selection & design of the tattoo.
Our tattoo artist shared ideas about Tiger Tattoo designs with the client which portrayed qualities of Strength & Power. client chose the design without any difficulty and we customised as and how the client demanded. With the selection of the design, we put up 6 hours of non-stop hard work in making of this amazing royal tiger tattoo which is no less fierce than a real tiger!
The "Trishul" is a three-pronged weapon & emblem of Lord Shiva, the Hindu God of DESTRUCTION!
.
"Om Namah Shivay"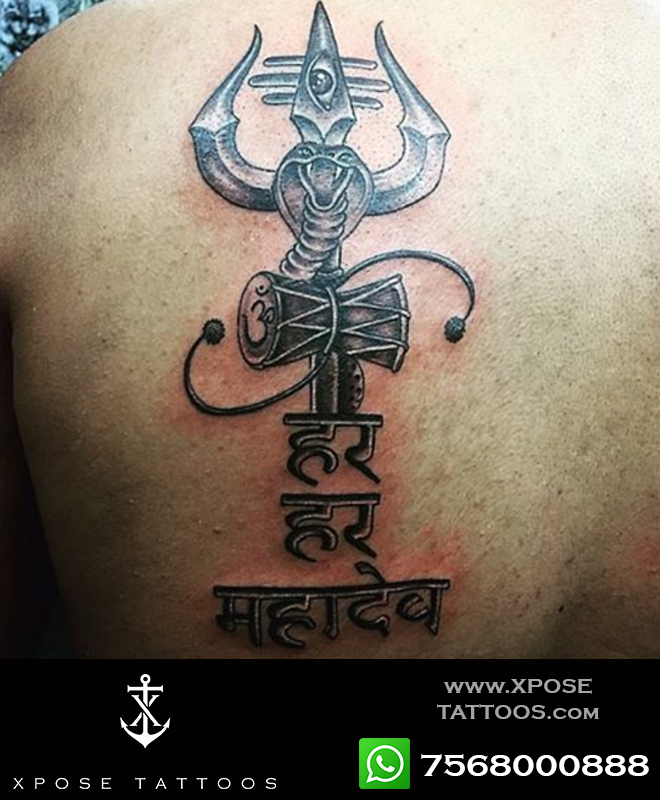 TRISHUL tattoo with text हर हर महादेव. The Trishula is the three-pronged weapon and emblem of Shiva, the Hindu god of destruction. Pranay(client) wanted this tattoo from last three years but somehow did not get the time or right circumstances for it. Finally after 5 hours under the needle he got what he was waiting for so long and left the studio with a big smile on his face and a sense of achievement.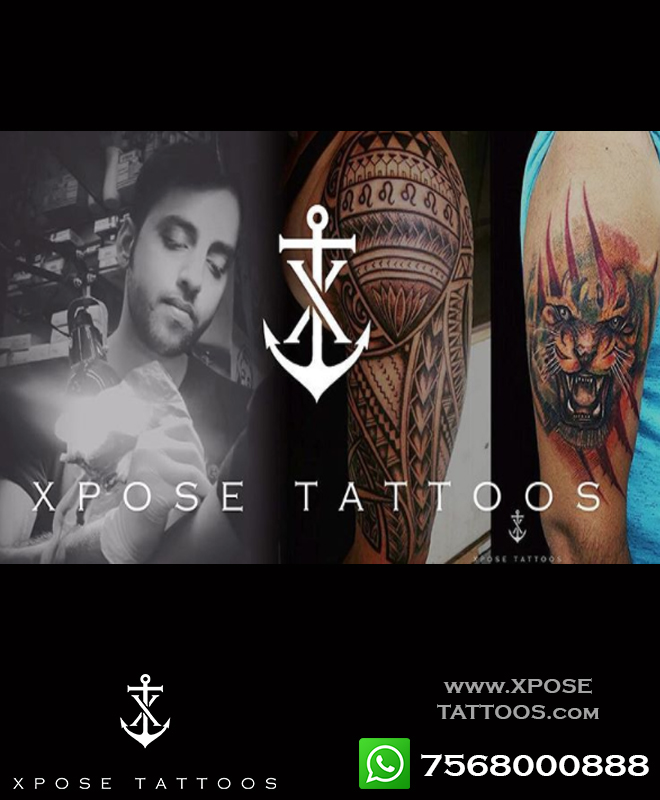 Share