Preparation before getting a Tattoo
                                  HOW TO PREPARE YOURSELF BEFORE GETTING PERMANENT INK
Getting a permanent tattoo these days might seem like the "cool" and "in" thing to do, but it is not everyone's cup of tea. One needs to be well-educated about the art of tattooing and all the risk factors and precautions related to it.
There are various things you should keep in mind to prepare yourself before getting a permanent tattoo:
1)      BEFORE COMING TO THE STUDIO
–          If you have finally thought of getting a permanent tattoo, think again. Prepare yourself mentally if you really want it and NEVER RUSH into this decision of getting a permanent tattoo. Check if there is no peer pressure and it is solely your decision.
–          After you have thought over it many times, STAND BY YOUR DECISION. Be confident about it and do not let it relapse.
–          Keep your BUDGET in mind. Choose your tattoo design and size according to your budget.
–          DO YOUR RESEARCH and always go for the best tattoo artist in town, who is not only a professional but well-known and equally experienced in this field. Have confidence in your tattoo artist and in return he will be patient with you too.
(If you're looking for the qualities of a good tattoo artist, CLICK HERE!!!)
–          ALWAYS book an appointment beforehand, so that the tattoo artist can pay more attention to you.
–          Before walking in the studio with a blank mind, DECIDE YOUR DESIGN before-hand. If you are unable to decide on your own, you may always seek the tattoo artist's help.
At Xpose Tattoo Studio Jaipur, currently the best tattoo studio in Jaipur as well as one of the top most growing tattoo studios in India, you will find the best tattoo artists who are always available  there to help you out with your confusions and turn them into great combinations.

2)      WHEN YOU COME TO THE STUDIO
–          AVOID wearing tight fitting clothes. Wear loose cotton clothes, so that your tattoo can breathe after you get it done.
–          You should be 18+ and always CARRY YOUR IDENTITY PROOF (Driving Licence, PAN card, etc.)
If you are below the age of 18 years, you should bring your guardian along with their IDs too.
–          DON'T BE SHY about asking your tattoo artist about the equipments he is using, how they have been sterilized, disinfected, etc.
–          If you are too scared or under confident, you may always bring along a friend or a family member for mentally supporting you throughout the whole procedure.
We, at Xpose Tattoos Jaipur try our best to make our clients feel comfortable and try to make the procedure less painful.
–          Remember, getting a permanent tattoo is no cake walk, this ink on your skin is forever.
It is YOUR BODY, YOUR DECISIONS. Think once, think twice, think more than twice, but always be sure about your decision and do not regret it.
We are available everywhere from Facebook to WhatsApp, if you need any information or help regarding the preparation for your procedure.
Xpose Tattoos Jaipur – ART FOR YOUR SOUL!!!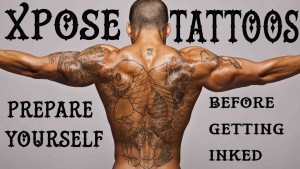 Share